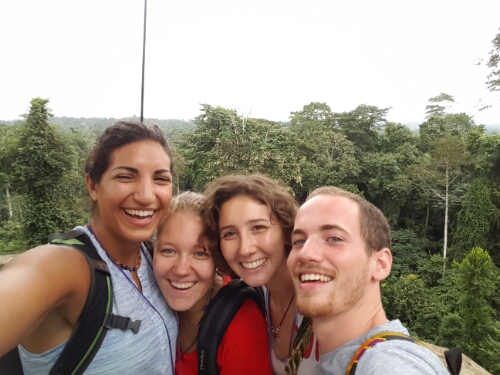 Our day started with breakfast at 8 this morning. Hooray for sleeping in! We still didn't get a ton of sleep because we were all hanging out last night, but it was nice to be able to turn off my 5AM alarm for the weekend.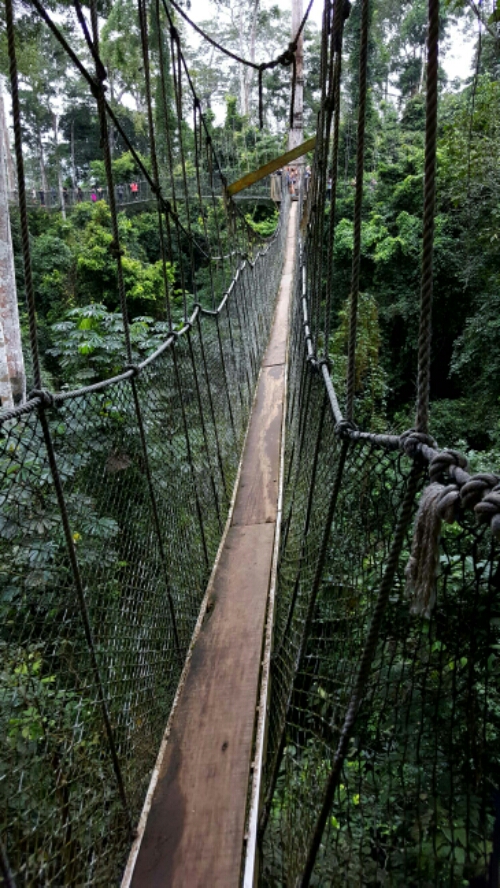 We headed out right after breakfast to go to Kakum National Park. The area is a tropical rainforest and contains thousands of species of plants, birds, animals, etc. It also has the most concentrated population of forest elephants in all of Ghana. If you really want to see animals while you're there, they recommend staying overnight and
doing a night hike. We were there during the day, so we didn't see many animals, but the views were still amazing.
The park has a canopy walkway that consists of seven platforms and rope bridges that stretch from tree to tree. We hiked up through the forest to get to the starting point of the walkway, and it was cool to get to see the everything from both vantage points. I love the feeling of being deep in the forest, with tall trees all around and just little glimpses of the sun through the thick foliage, but getting to also see it from above definitely gives a better sense of the scale of the trees and the expansiveness of the park. Plus the walkways were just fun to walk on! I felt like a kid on a jungle gym… except that we were actually in the jungle and probably hundreds of feet off of the ground. Basically the same.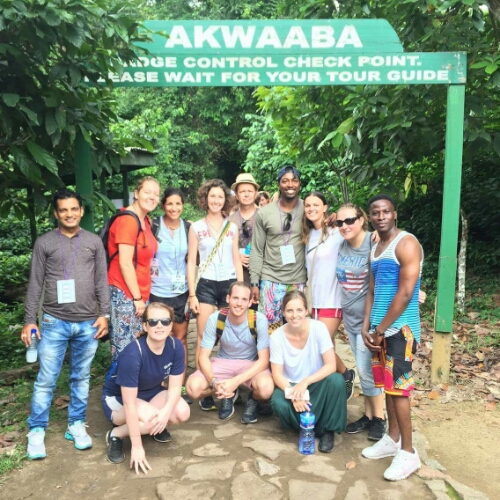 After the park, we headed back towards Cape Coast and made a quick pit stop at this place where you can see alligators (maybe crocodiles? I can never remember the difference) up close and even touch one if you're interested. I was not interested. I know that I said I would do things that scare me, but yeah… there isn't even the tiniest part of me that wants to touch an alligator. I think it was crazy enough that we walked anywhere near them without a fence between us! (I spent a few seconds identifying people in our group that I could probably outrun, if it came to that.) In the end, everyone survived, but even so, I would be more than okay with never doing it again.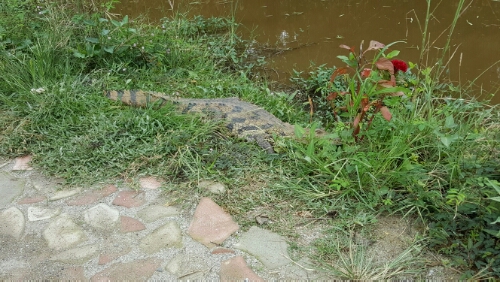 I was pretty ready to get back to our hotel after that, and as soon as we got back, I passed out for a couple hours. I guess all those late nights finally caught up with me! We had one more group outing today, but I need to take a little time to emotionally recover before I can write about that. Maybe tomorrow.