One of the negatives and also sometimes positives of extended travelling is that you don't necessarily have time to do a lot of research. I make sure that I hit the major sights (thank you, tripadvisor) and put a LOT of trust in the people working reception at my hostel to tell me what I should go see. Sometimes, that means that you know you should visit something, but you have no idea what it is… and then you go there and learn about it and are like, "DUDE! THIS IS SO COOL!"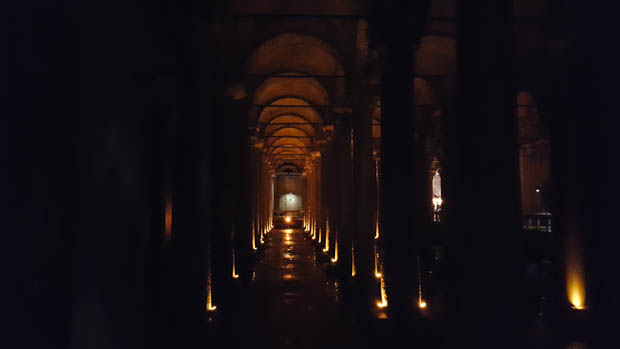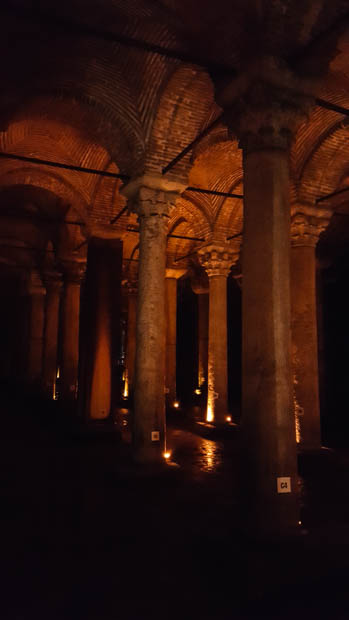 For me, that happened with the Basilica Cistern, or Yerebatan Sarnici in Turkish (Sinking Cistern). The "basilica" part of the name comes from the fact that there was formerly a basilica on the site. I had no idea what it was, but I saw a bunch of tour groups going and the self-guided walking tour I was following mentioned it, so I figured I should check it out. I know, all of this makes me sound like a complete idiot, but sometimes the best way to learn about something is to just go and experience it (things I tell myself that may or may not be completely true… sometimes it's probably good to have a clue, but that's not the way I've been operating recently).
The Basilica Cistern was constructed during the Byzantine days, between 527-565AD by Emperor Justinianus I. It's a ginormous underground water cistern, 140m x 70m and with 9m tall columns. The capacity is around 100,000 tons of water which translates to 26.5 million gallons. There are 336 columns total, placed in 12 rows of 28 columns. These are joined by arches and vaulted ceilings that carry the weight of the city above. The brick walls are over a meter thick, and they and the floors are plastered with a thick layer of special brick dust mortar for waterproofing.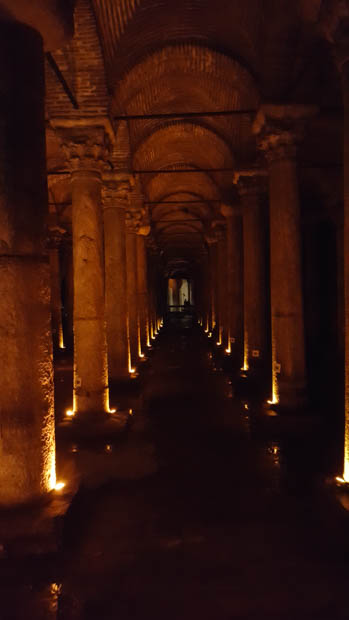 The cistern was in active use until the Ottomans conquered the city. They preferred fresh water as opposed to sitting water, so the underground reservoirs went mostly unused with the exception of feeding the nearby Topkapi Palace gardens and a few homes. In the 1540s, a Dutch traveller visited Istanbul in search of Byzantine monuments. When he noticed residents pulling water out of their floors, they directed him to a staircase that led into the reservoir. He explored it using a small boat, took measurements, and published his findings in a book that piqued more Western interest in the cistern.
There were repeated renovations in the 1700s – early 1900s to reinforce various part of the structure, and it wasn't until a major 1985 restoration that the complete scale of the cistern was discovered. After removing 50,000 tons of mud (and probably trash and bodies and who knows what else), the full height of the columns was visible.
---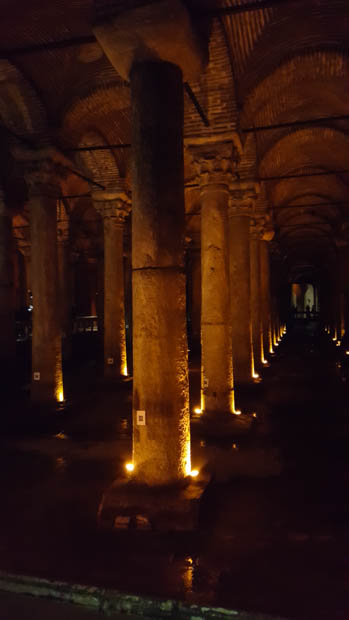 The columns are all made of different materials and are of different architectural styles because, in classic ancient fashion, they were swiped from other structures. They always say that it was from ruined structures, but I like to imagine that there was a big column-pilfering problem in ancient times and sometimes people would wake up in the morning to discover that the columns on the local temple were gone… and then they would go steal some others and so on until someone finally sucked it up and just made some new ones. Estimates are that it took 7,000 slaves to construct the cistern, and that doesn't even include the workforce required to build the 12-mile long aqueduct that fed it.
---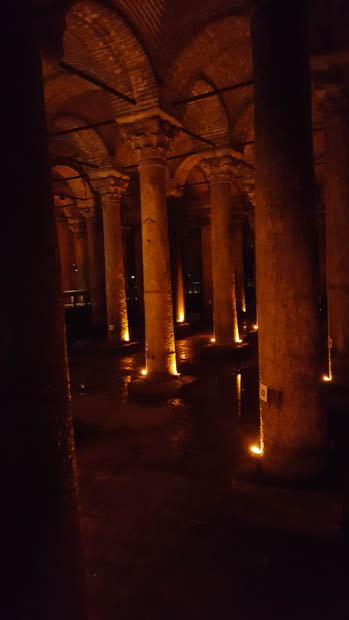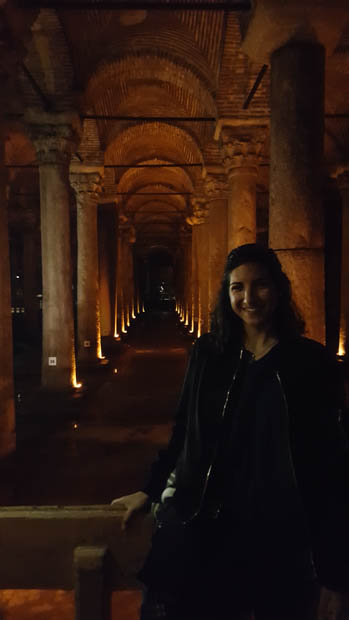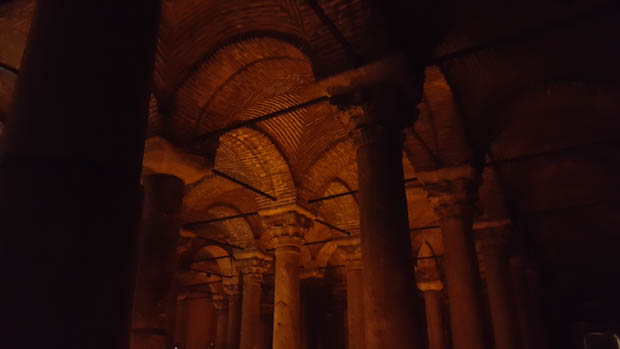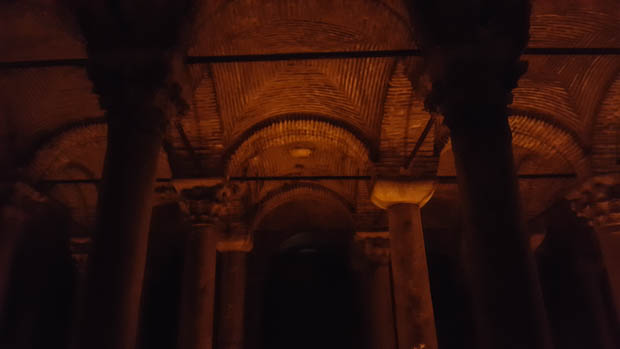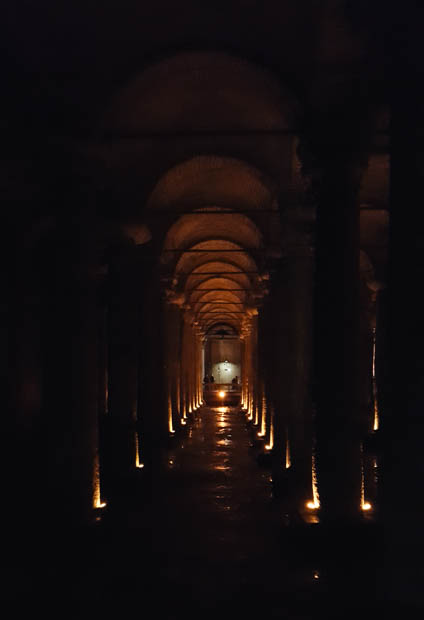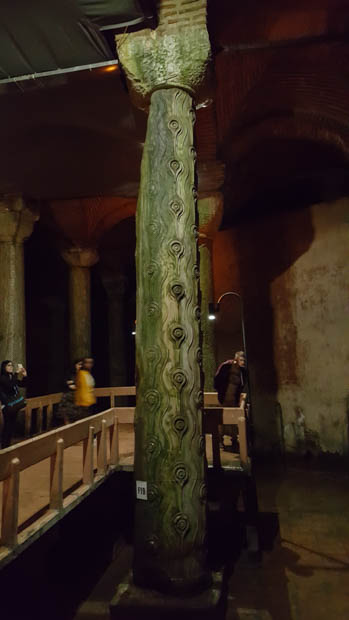 There are three columns of particular interest. One is carved with the images of eyes and tears, paying tribute to the hundreds of slaves who died during construction. (It's a good reminder that all of this amazing ancient stuff usually came at a high human cost.) The other two are normal columns, but the bases are two big Medusa heads that scholars think came from the Temple of Apollo near Ephesus (another city in Turkey), but no one knows for sure. One is sideways and one is upside down, a configuration explained by scholars as showing the change from pagan religion to Christianity. Other legends say that they were placed there for protection and are oriented that way to keep them from turning people to stone. I think that they were just so tired of moving them that they said, "This is close enough, we'll leave them like this."
---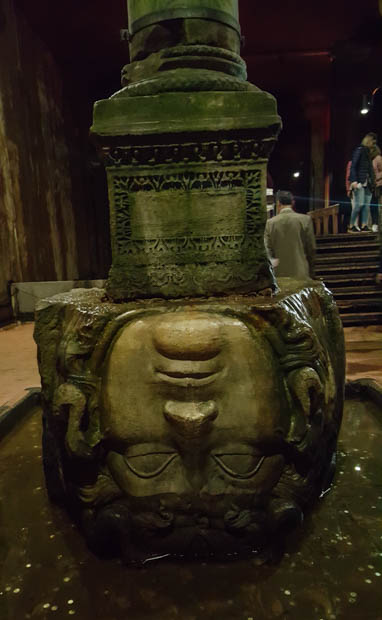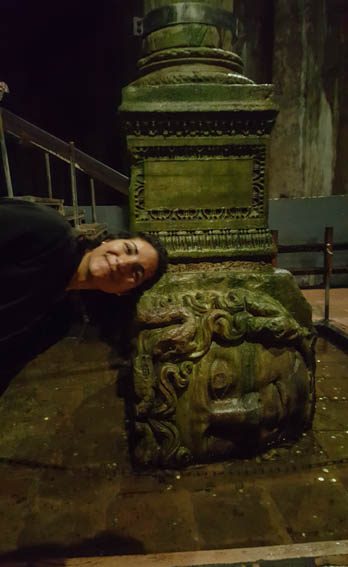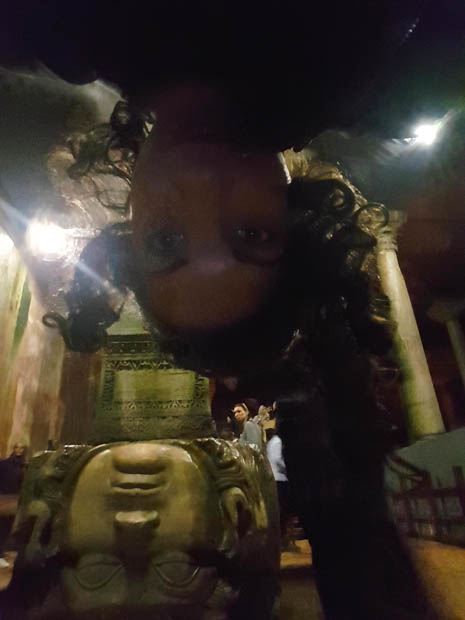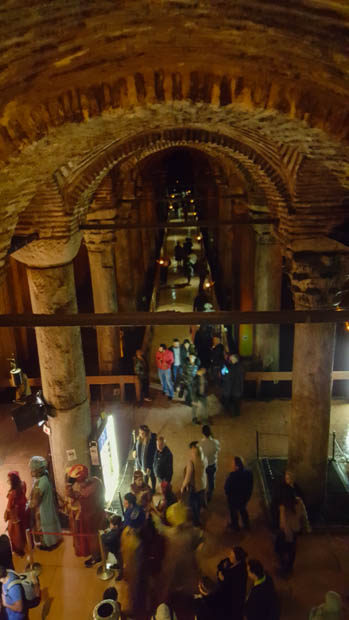 Now, there are walkways for tourists to tour the cistern, unfortunately replacing the boats that were formerly used. That would have been awesome.
As I took the steps underground, my jaw literally dropped when I got my first look. It's huge. I know, like duh it's huge, but when you see it in person and realize that you're underground, it's unbelievable! And it was chilly down there which I suppose would have been nice if it wasn't also chilly outside. My brain couldn't even imagine the whole thing filled with water, and with no lights down there it would have been CREEEEEPY. Eek. Imagine going in there while it was full, with no clue what you were going to find in a little boat in the darkness with just a lantern. No, thank you. It probably smelled weird too.
---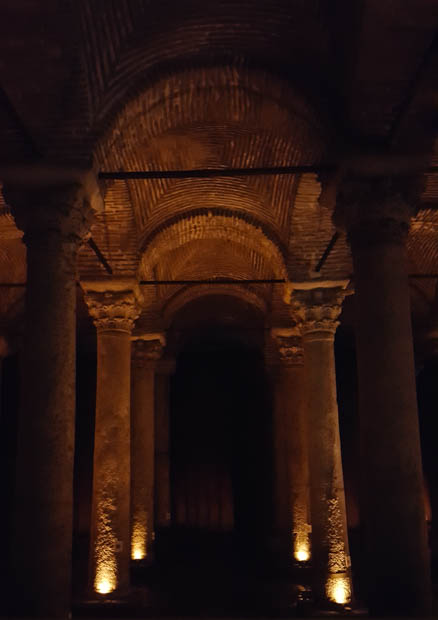 Anyway, despite the fact that I didn't get to ride on a boat, it was spectacular. The space seems to go on forever, and when you think about the logistics that went into actually constructing it, it's mind-blowing. All of that. Underground. Over 300 huge columns. So. Many. Bricks. And the ceilings are super high which means they had some sort of scaffolding. And then the aqueducts to feed it! Geez!
After wandering around much longer than anyone else and in a constant state of marveling, I made my way to the exit. Then, if you aren't already aware of the expanse of the thing by the time you leave, you pop up on the surface, blocks away from the entrance. And it's bright outside and noisy and bustling and you're like, "WHAT IS HAPPENING?" because you just emerged from this underground cave and now you're in the middle of the city. The whole transition was very confusing, and I felt like a time traveler or something.
In conclusion, the Basilica Cistern is super cool, and if you've ever wanted to feel like a time traveler, it's the place for you. Except now that I've warned you, maybe you'll just go and not feel it and think that I'm insane. Maybe I am.