Where's the best place to start off your day after sleeping on the cold, hard ground? In a HOT TUB! Thanks to Iceland's abundance of geothermal heat, there are naturally heated swimming pools all over the place. One of the reasons Mike picked our particular campsite for our first camping night was because it's in a town (Hveragerði) with a naturally heated pool (Laugaskarð Swimming Pool), and you can pay ~US$9 (not super cheap but very reasonable comparatively) to go in and use the pool and hot tubs. The pool was built in 1938, is Olympic length (50m), and most importantly, used to be the practice location of the Icelandic national swim team.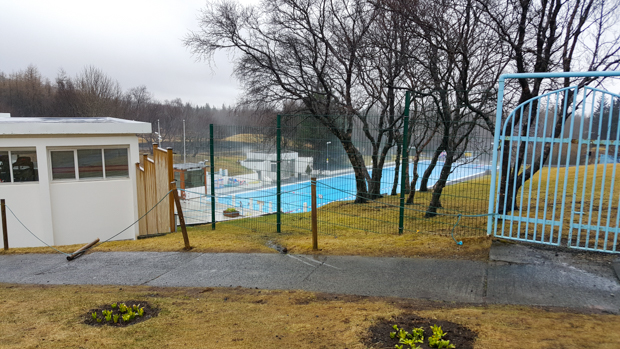 Anyone who's been to a swimming pool in Iceland will tell you that there are very specific locker room procedures. They totally have it down to a science. First, we had to leave our shoes upstairs to keep from tracking dirt/water into the locker rooms. Second, they don't use chlorine in the pools, so you have to take, as the guy working there informed us, "a proper naked shower" before you go in. There are VERY aggressive signs in the locker room telling you 1. that you can't take pictures while in the locker rooms and 2. what areas of the body to focus on while you're taking your proper naked shower (privates, armpits, feet, and head). Third, you're supposed to plan ahead somewhat because the only part of the locker room that should get wet is the shower area/space immediately outside the shower. I did NOT do this and had to run into the dry part of the locker room after showering to get my suit. Whoops. If anyone asks, I'm not the one who got water all over the floor.
Then, after you get out of the pool, you're supposed to go back into the shower where you've thought ahead and stored your towel/shampoo/conditioner/soap in the little cubbies nearby so that you can shower and dry off before going into the dry changing area. Yeah, I also didn't do that. In summary, I messed up the whole system, the entire locker room floor was dripped on by the time I left, and I was just happy that there weren't other people present during my mess-up moments to judge me for my ignorance. (Mike and Tony weren't so lucky and said that they were getting looks from their fellow locker roomers as they failed to follow proper procedures.) A woman came in as I was leaving, and I pretended that I wasn't the reason why the entire floor was wet. The system is actually kind of genius… once you know what you're supposed to do. Oops.
At the pool, Mike and Tony and I had very different ideas of what we wanted to spend our time doing. Tony and I were very pro-"sit in the hot tub and bake". Mike wanted to swim laps so that he could pretend to be an Icelandic Olympian. Weirdo. There were a few different hot tubs, each marked with the water temperature. There was also a place where you could plunge into frigid water, and Tony and I watched in horror as some guy submerged his entire body. Please note that the air was NOT warm, and the only reason we were okay walking around in swimsuits was because our bodies were warmed up by the water. I think I would have turned into an ice sculpture if I got into the cold water and then tried to walk to the locker room.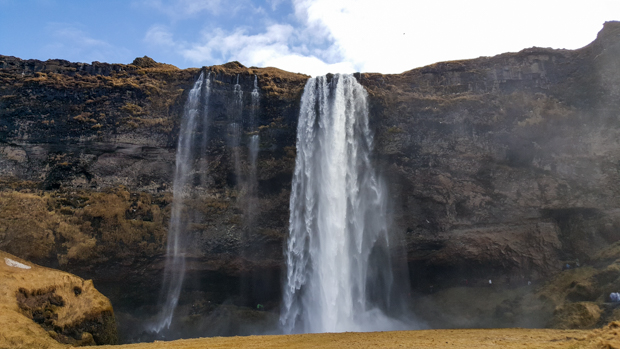 We all had a nice bake in the hot tubs, and after we were fully roasted, we took showers and headed out to start our adventure! That was the warmest I would feel for the rest of our trip… kidding. But seriously. Our first stop was Seljalandsfoss which is, that's right, a waterfall. This one is cool because you can walk behind it. Remember when I said that waterproof clothing is a must? Yeah, this is why. We got completely soaked, but my top half was totally dry underneath my jacket (shout out to Andrea for lending me a waterproof jacket, without which I would have been completely miserable, no exaggeration).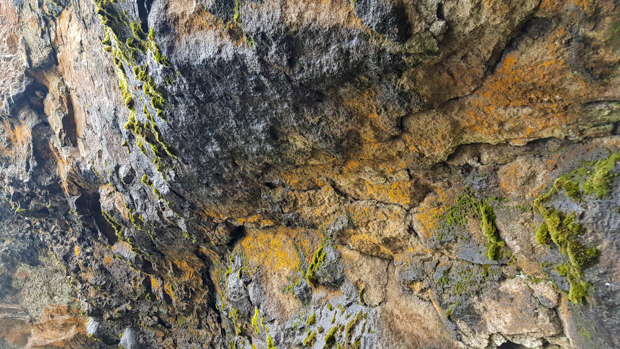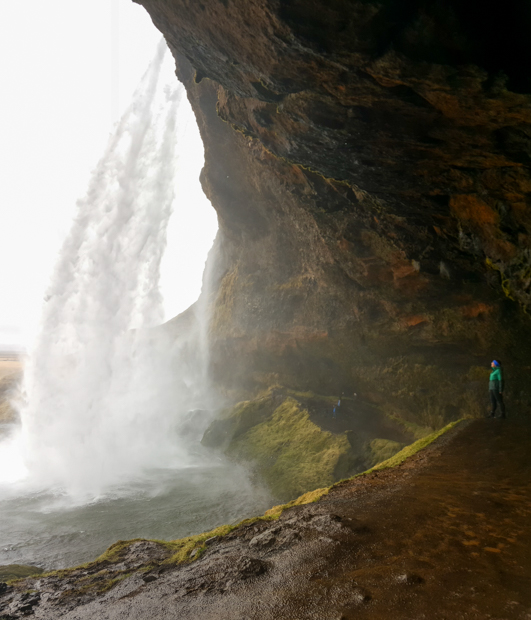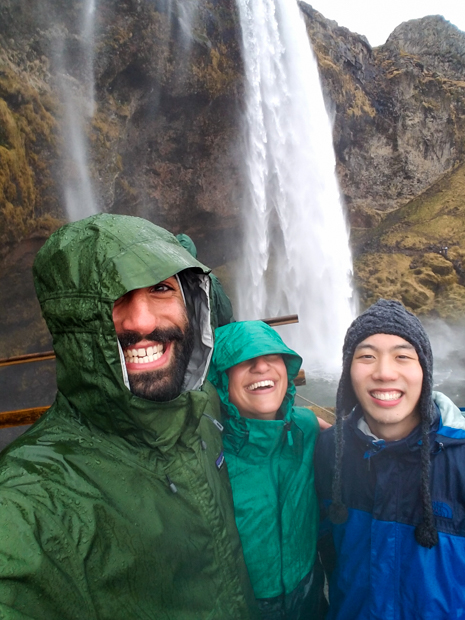 A little farther into the park is another waterfall, Gljúfrafoss (or Gljúfrabúi). It's mostly hidden behind a cliff, and there are two ways to see it. You can hike up to the top of the cliff to see it from above, or you can walk through a slot canyon/river and see it from below. We went to check it out from above first, but the best part was definitely going in to see it through the canyon. At first, I didn't want to go because I thought that you had to wade through the water to make it there, and I still wasn't completely confident in the waterproof-ness of my boots (I bought them in Armenia for $18, so despite the salesgirl's assurances, I'm sure you can understand the reason for my doubts). Mike and Tony went ahead, and they said that there was a path of stones that you could walk on and make it most of the way, if not all, without even really getting your feet wet. Okay. Sure enough, it was no problem (though it did require some minor contortions), and I also started thinking that maybe my boots really were waterproof… talk about a bargain!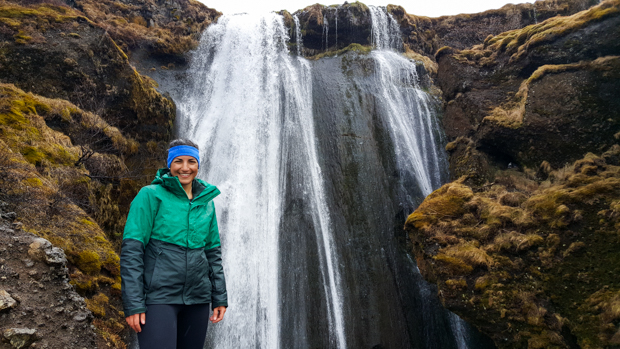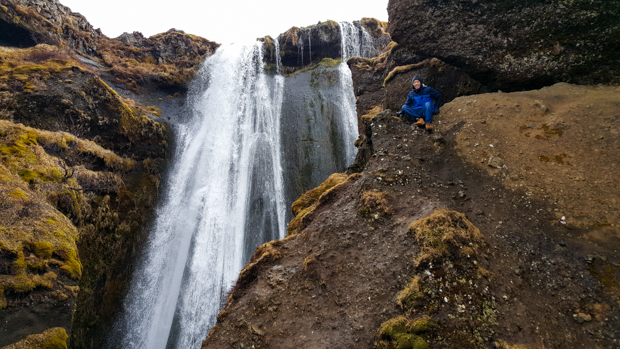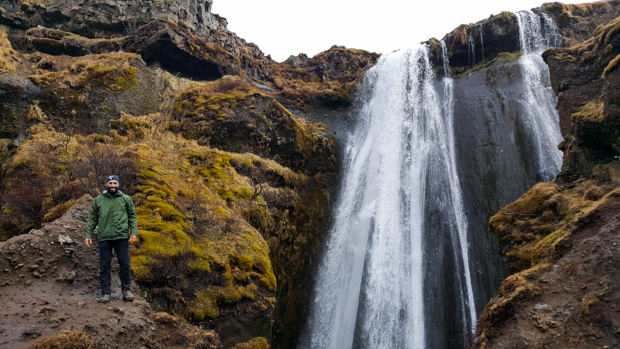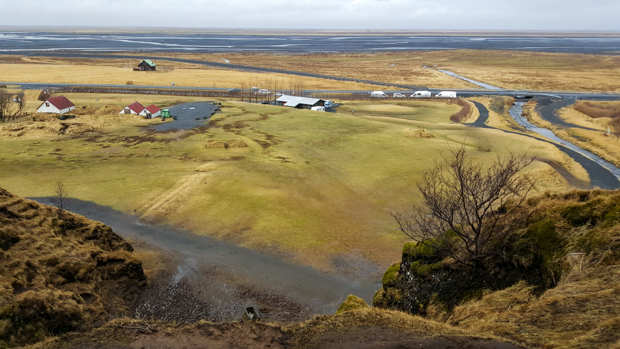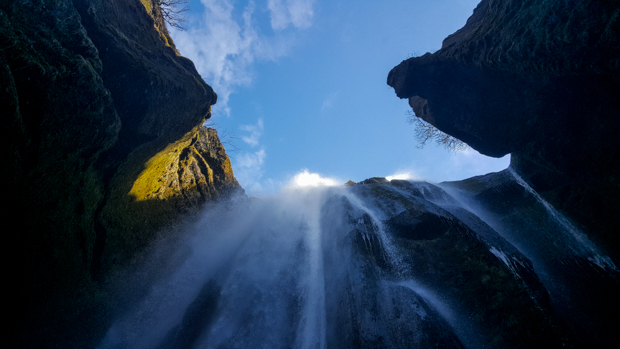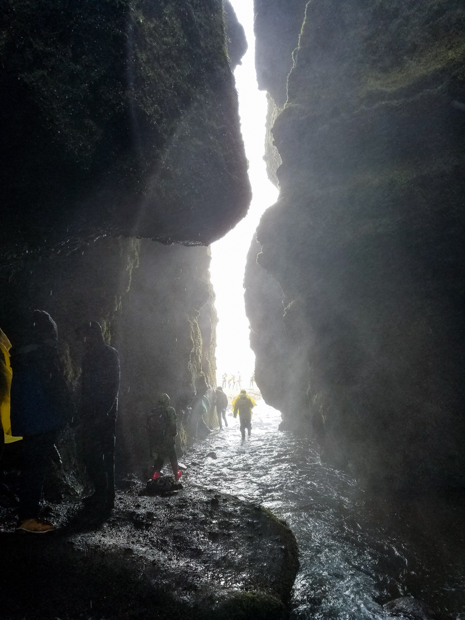 From there, we drove to another pool, Seljavallalaug, that's also naturally heated, smells strongly of sulfur, and is one of the oldest pools in the country, built in 1923. It was built as a place to teach kids how to swim, obviously an important skill in a country surrounded by water and originally occupied by mainly fisherman. Today, swimming is a required subject in public schools.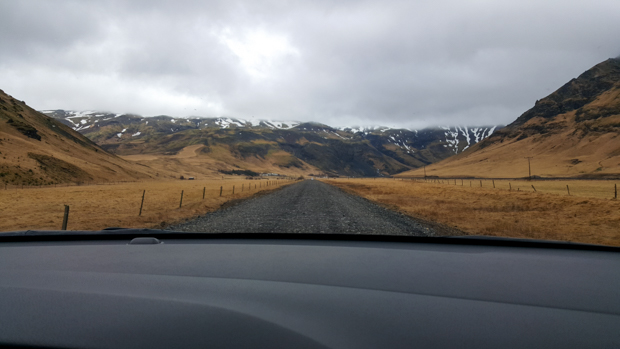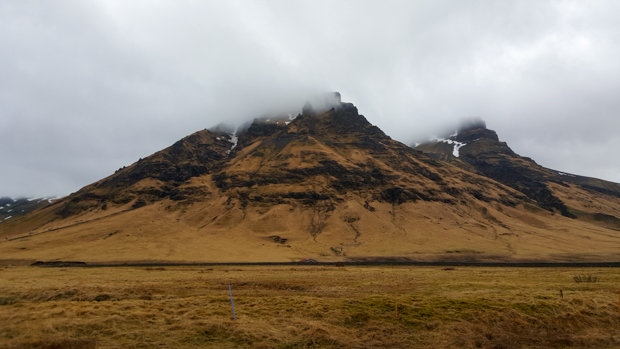 We thought we might go in, but the water was all green with algae and it was more lukewarm than hot… so instead, we just looked at it and then hiked around the area a bit. It's in a valley with another one of those crystal-clear rivers running through, aka it was hideous and I couldn't stand looking at it. JUST KIDDING I WANTED TO LIVE IN IT. But it was NOT warm.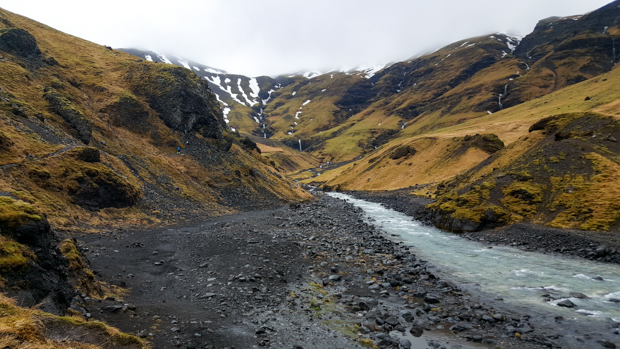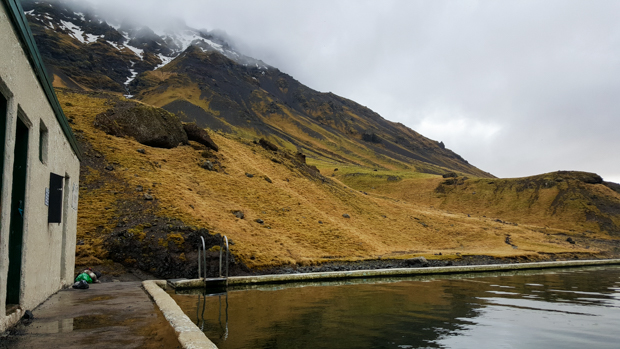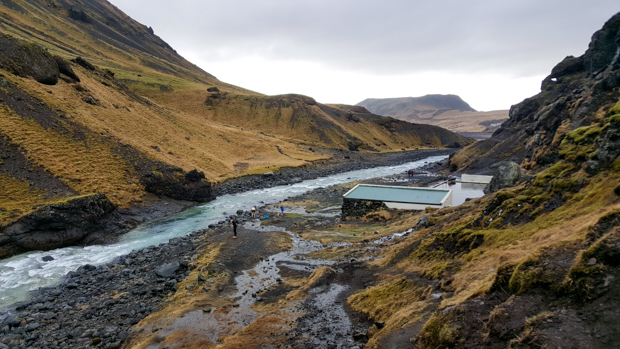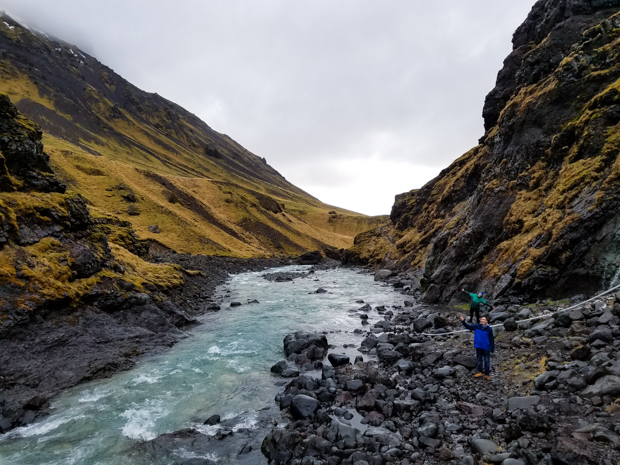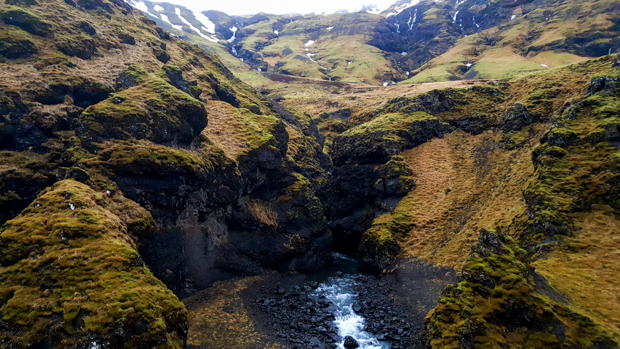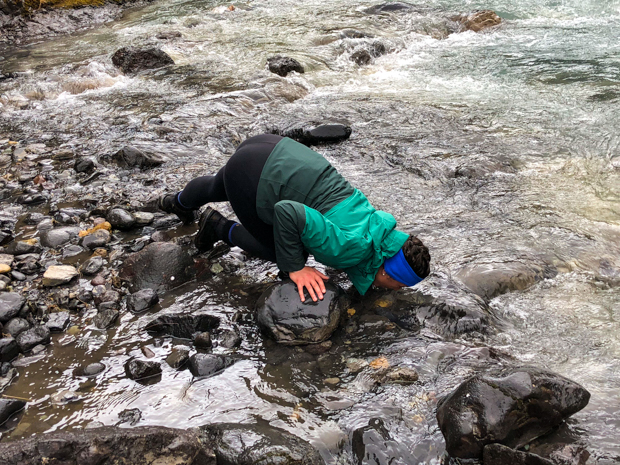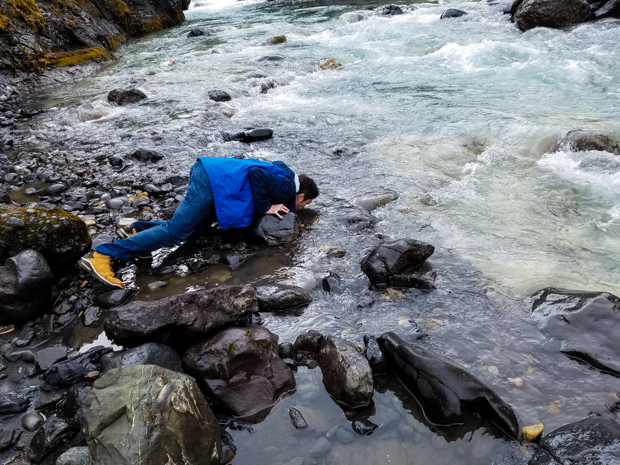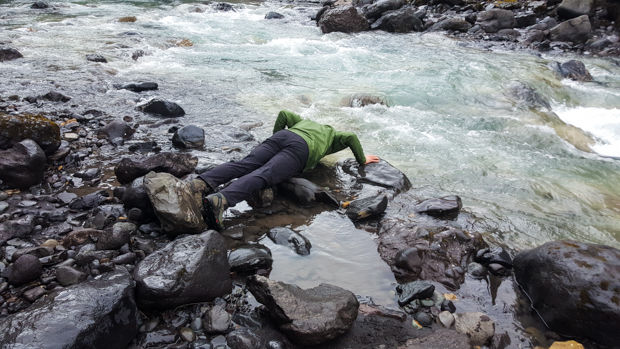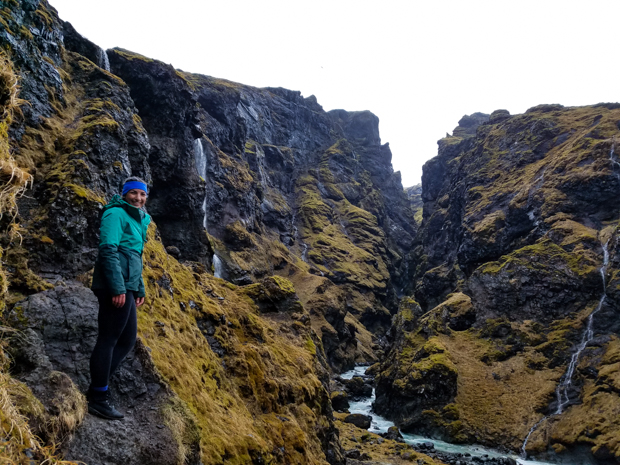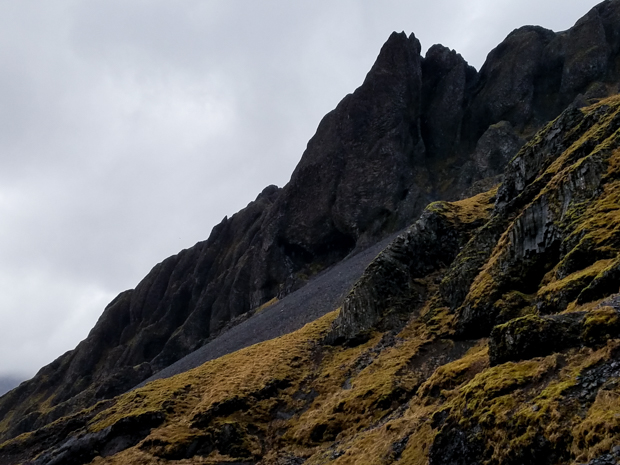 There were a bunch of people in the pool when we came back past on our way to the car, but I was VERY happy with our decision to skip it. I actually felt clean after the morning swim/shower. I didn't want to mess that up so soon. We still had a long day ahead!
Your finger is probably ready to fall off from scrolling through so many pictures, so we'll take a pause here so you can recover. There are just too many pictures to choose from!