Continued from the previous post…
Our next stop was to see a glacier! I was excited because it was our first one of the trip. We weren't sure if it was worth stopping just to take a look, but we figured why not? The glacier is called Mýrdalsjökull (jökull = glacier), and we went to this one part that sticks out a bit called Sólheimajökull. At least that's what I think the situation is with the names, but honestly it's a little hard to keep track, especially with all of the crazy Icelandic names. Mýrdalsjökull is on top of Iceland's largest volcano, Katla, which is due for an eruption anytime. The big eruption in 2010 that sent ash all over Europe was from a smaller volcano nearby… and usually, the eruption of one leads to the eruption of the other within a decade. Katla is very closely monitored because even minor eruptions can result in major flooding from the glacier melt.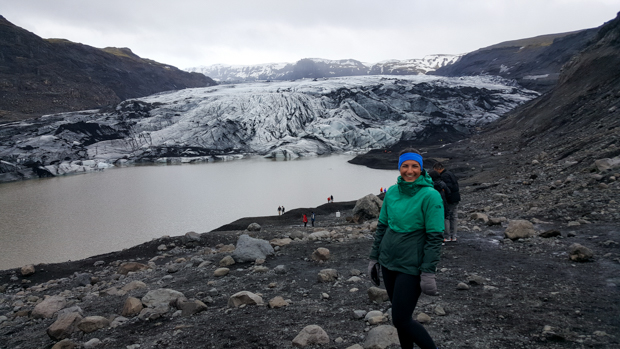 I thought the glacier was awesome, but we were pretty far away so we didn't get the full effect. It would have been cool to do some glacier hiking or whatever it's called. I'll have to add that to my list of things to do when I go back to Iceland one day!
This is where the craziness of Iceland's landscape diversity comes in… We were at a glacier, and then 30 minutes later, we were on the beach. Reynisfjara is a black sand beach, but the really cool thing is the rock formations there. They look like a bunch of pencils bundled together and sticking up at different heights. There are two options for how they were formed:
The columns are trolls that were turned to stone when they were caught outside at dawn.
They're basalt columns (basalt is one of the rocks formed by lava). They're formed when lava cools and contracts, making hexagonal rocks.
Guess which option I prefer.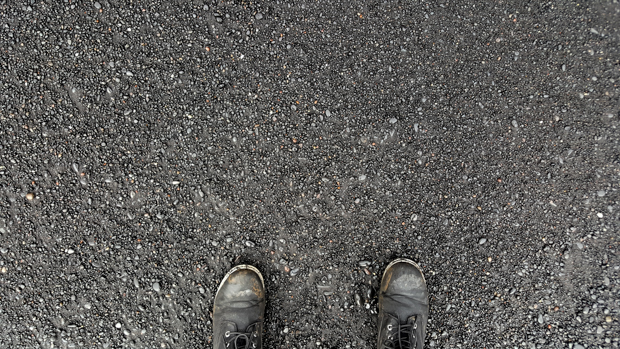 There's also a cave at the beach which, of course, has a name of its own: Hálsanefshellir. The rock formations in there are similar to the petrified trolls, but since it's a cave, they're coming in from all directions instead of being just straight up and down. I think we got lucky because we were there at low-ish tide, so we could get into the cave. It was still a bit of an adventure because we had to run towards the ocean as the water retreated to get to the other side of the troll rocks and then run away as the waves came back in, re-separating the two parts of the beach. And, we had to watch out for sneaker waves…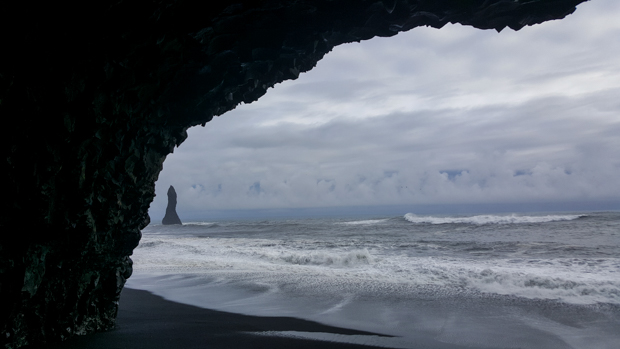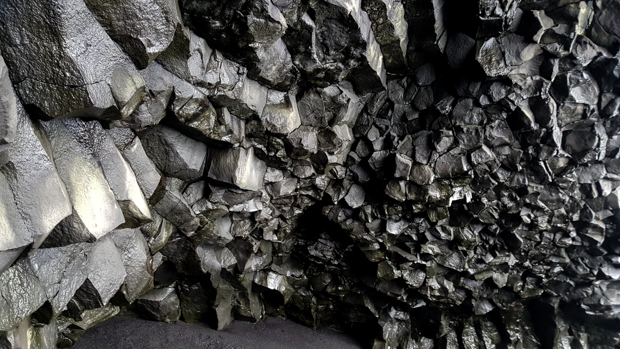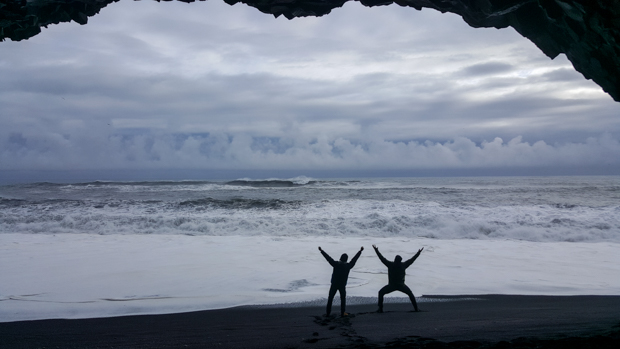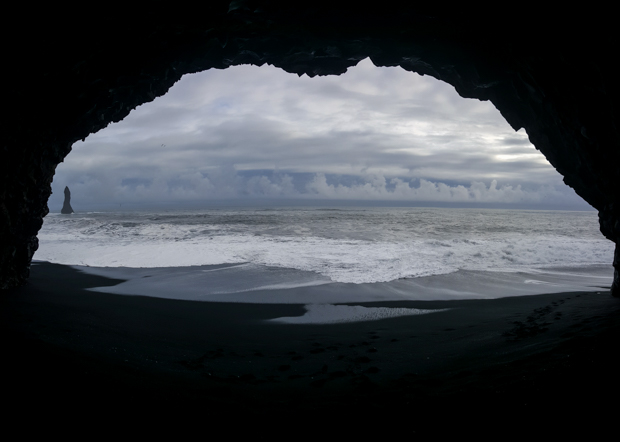 Sneaker waves are basically waves that are much bigger and come much farther into shore than the others, hence the "sneaker" part of the name because they can sneak up on you. The concept of sneaker waves is not at all funny… people have died from getting swept out to sea by the strange and unpredictable tides. We were quite entertained by the signs though, and the fact that they're called sneaker waves never fails to make me giggle.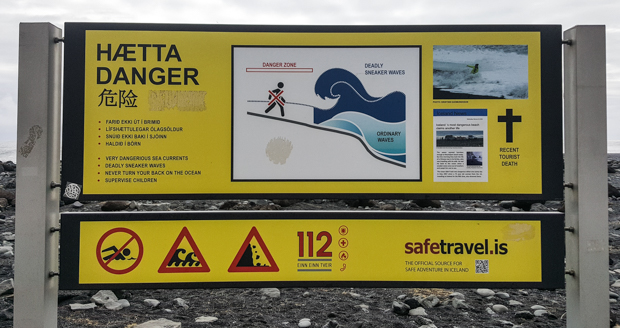 I kept imagining someone standing on the beach with a big cartoon wave behind them, tapping them on the shoulder… Surprise! The signs tell you to "never turn your back on the ocean!" We had a lot of fun yelling that at each other. And then we turned our backs on the ocean a couple times (unintentionally!) and found ourselves sprinting up the beach to avoid getting soaked by surprise waves. So that's what we get for not listening. (Strongly recommend that you heed the signs.)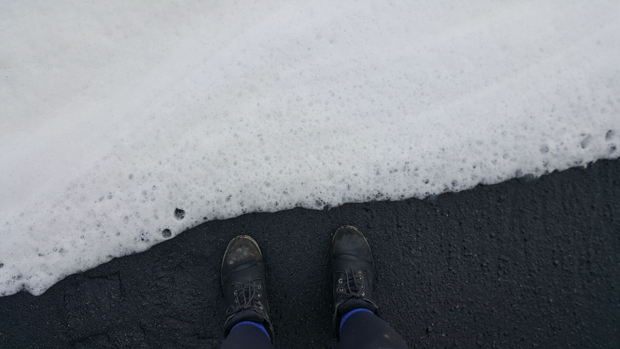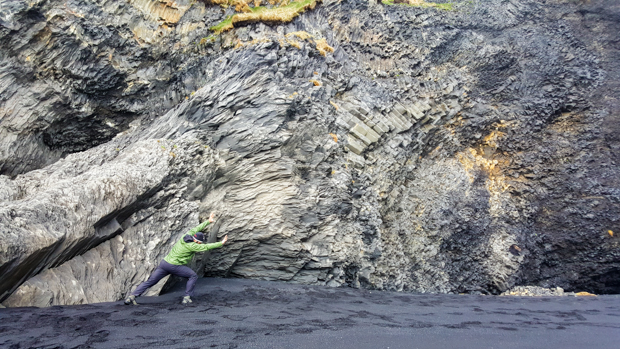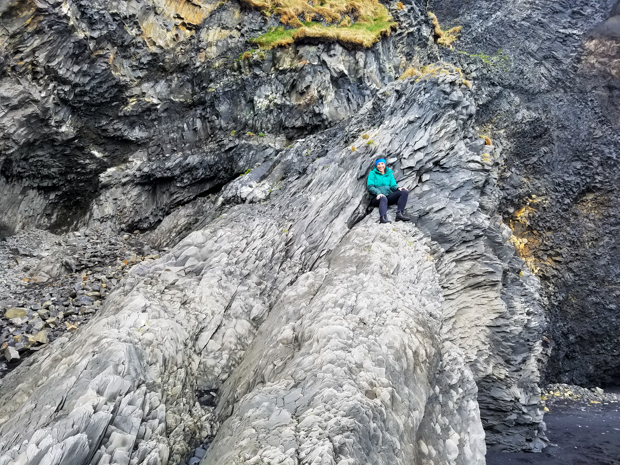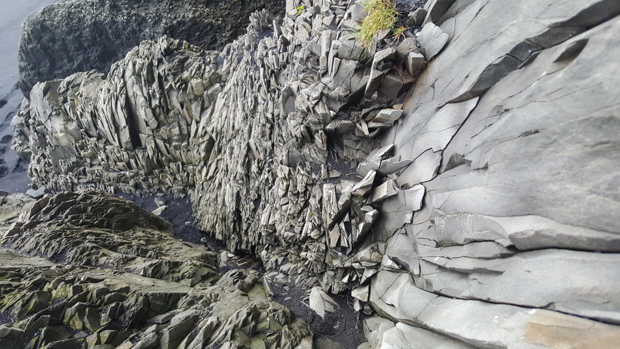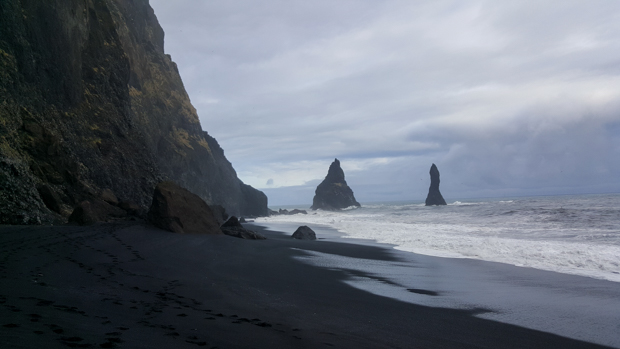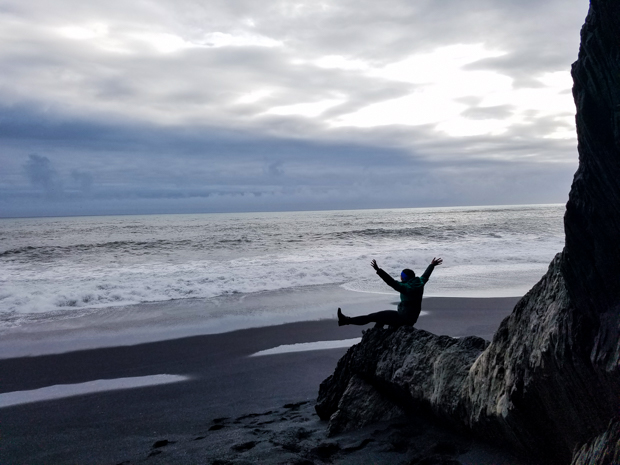 We had a little more driving to do before we got to our campsite for the night, but we still had plenty of daylight (thank you, super long days). We'd hit all the major destinations for the day, so we consulted Aunt Judy's list of notes to give us some ideas for a few more stops to make along our route.
On our way to see a cave from her list, we passed a sign marking the start of a hike on Hjörleifshöfði mountain. I have no idea what convinced us to do it, but we had some time and why not? Okay, I'll take the blame. I didn't think it seemed that long. In the end, I'd say that at least 50% of it was underwhelming mostly because the entire world was brown (it's probably fab in the summer), but in terms of Icelandic history significance, it wasn't a complete bust! We trekked across the treeless mountain, through mud and snow and little ground plants, until we finally reached the top of the mountain where there's supposed to be an amazing view of the surroundings… and guess what? A heavy fog set as we were approaching the top, so we couldn't see anything except the faint outline of some strange stone structure.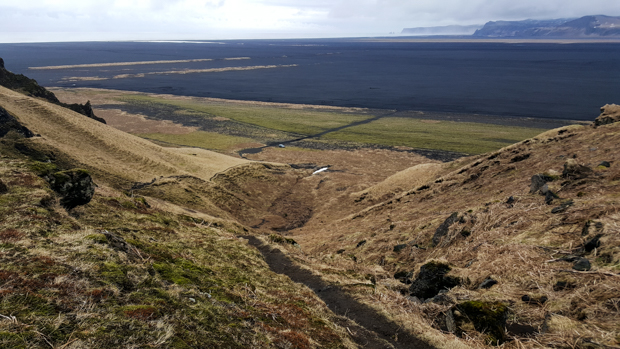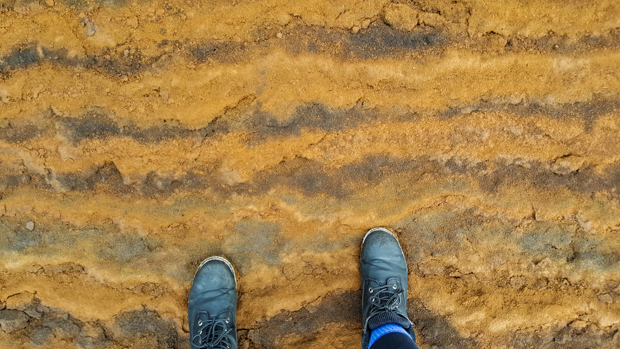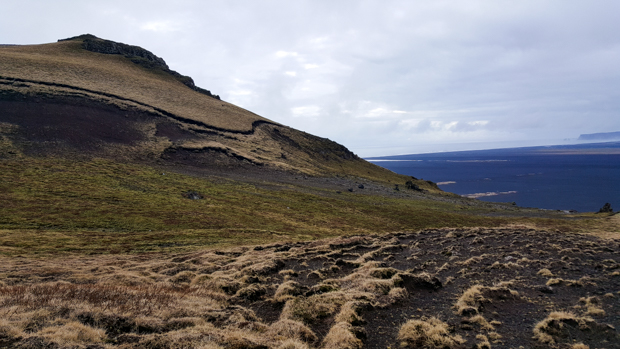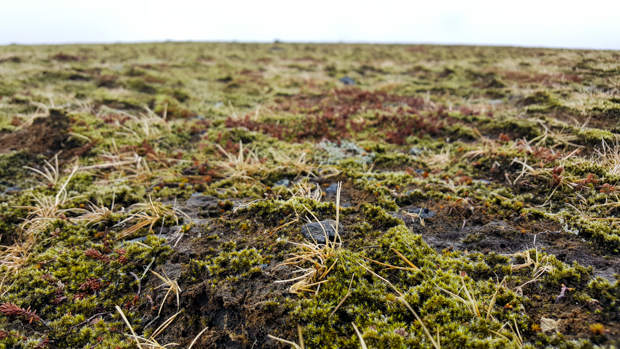 It turned out to be a Viking graveyard! This is one of those situations where we wouldn't have been surprised if we had done ANY research or had even just read the signs before starting the hike because it's kind of a big deal. Oops. Hjörleifur Hróðmarsson is buried there, the "second settler of Iceland". His brother was Ingólfur Arnarson, the first settler. Hjörleifur only survived one year on Iceland before he was killed by his slaves. He was avenged by his brother, and apparently, the mountain is now haunted by him… add that to the list of things we didn't know. Maybe that explains the fog.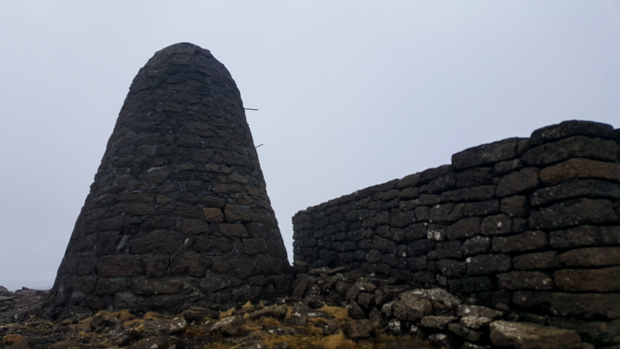 Finally, as we started to walk down from the gravesite, the fog cleared and we had a view of the seemingly endless lava fields stretching in every direction. The mountain we were on must have dropped out of the sky because it's the only one in the area, and around it is flat, flat, flat.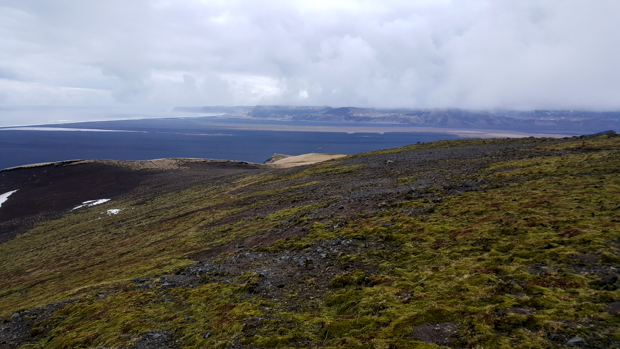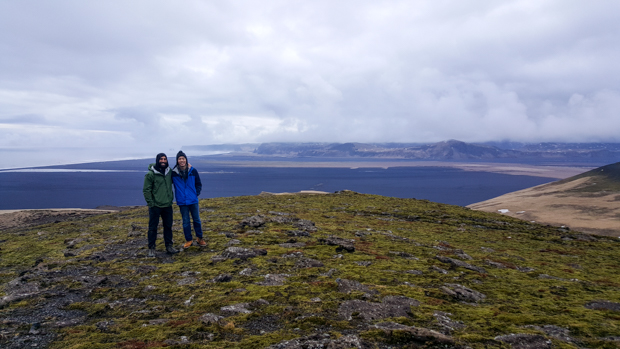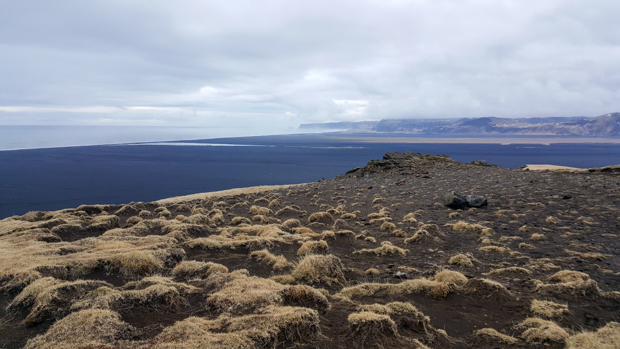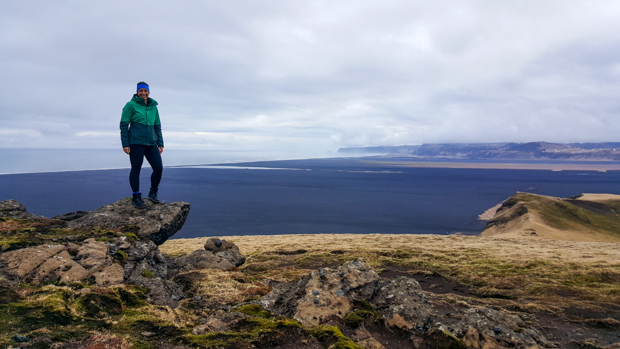 On the way back to the car, we passed some ruins/old foundations of two farms. The former farm inhabitants are buried on a plot next to Hjörleifur. I thought the whole thing was kind of cool. Mike and Tony were probably just trying to figure out why they'd listened to me about the hike. Sorryyy.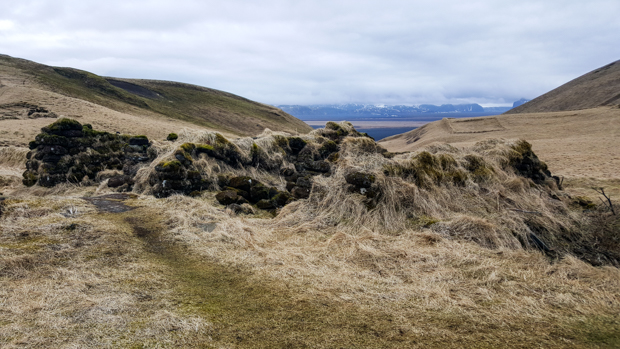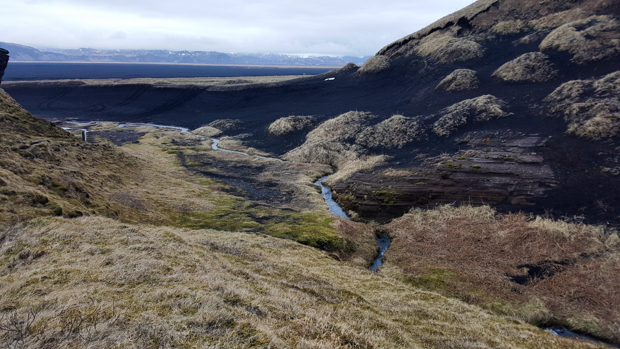 Since we were already so close, we did stop by our original target (2 hours later…) Hjörleifshöfði cave. It was probably worth a quick stop, but at that point, I think we were all tired and hungry and slightly grumpy. After a brief poke around, we headed to the campsite for another much-needed sleep on the cold, hard ground. This night was extra cold. Ugh.