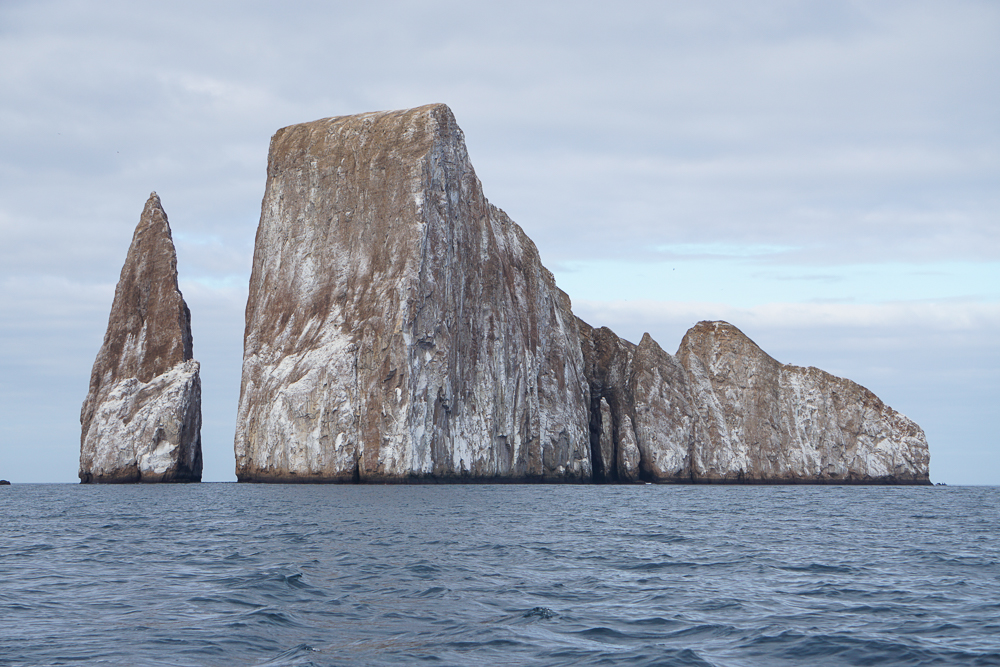 In my mind, there are two types of vacations: the "lounging and relaxing" type (not worth going too far from home because you can lounge equally well anywhere), and the "I need a vacation to recover from my vacation" type (anytime you go somewhere new and interesting). A Galapagos vacation clearly fits into the latter category, and my goodness. By day two, I already felt ready for my recovery vacation!
We had another full-day tour, this time sticking a bit closer to "home" and exploring other parts of San Cristobal rather than visiting another island. We were staying in Puerto Baquerizo Moreno, the largest town on San Cristobal and the capital of the Galapagos. It's at the western end of the island, and for this tour, we sailed up to explore the northern coast. This boat ride was MUCH smoother than the previous day's since we stayed near the island rather than crossing open ocean, and I don't think anyone was upset about that.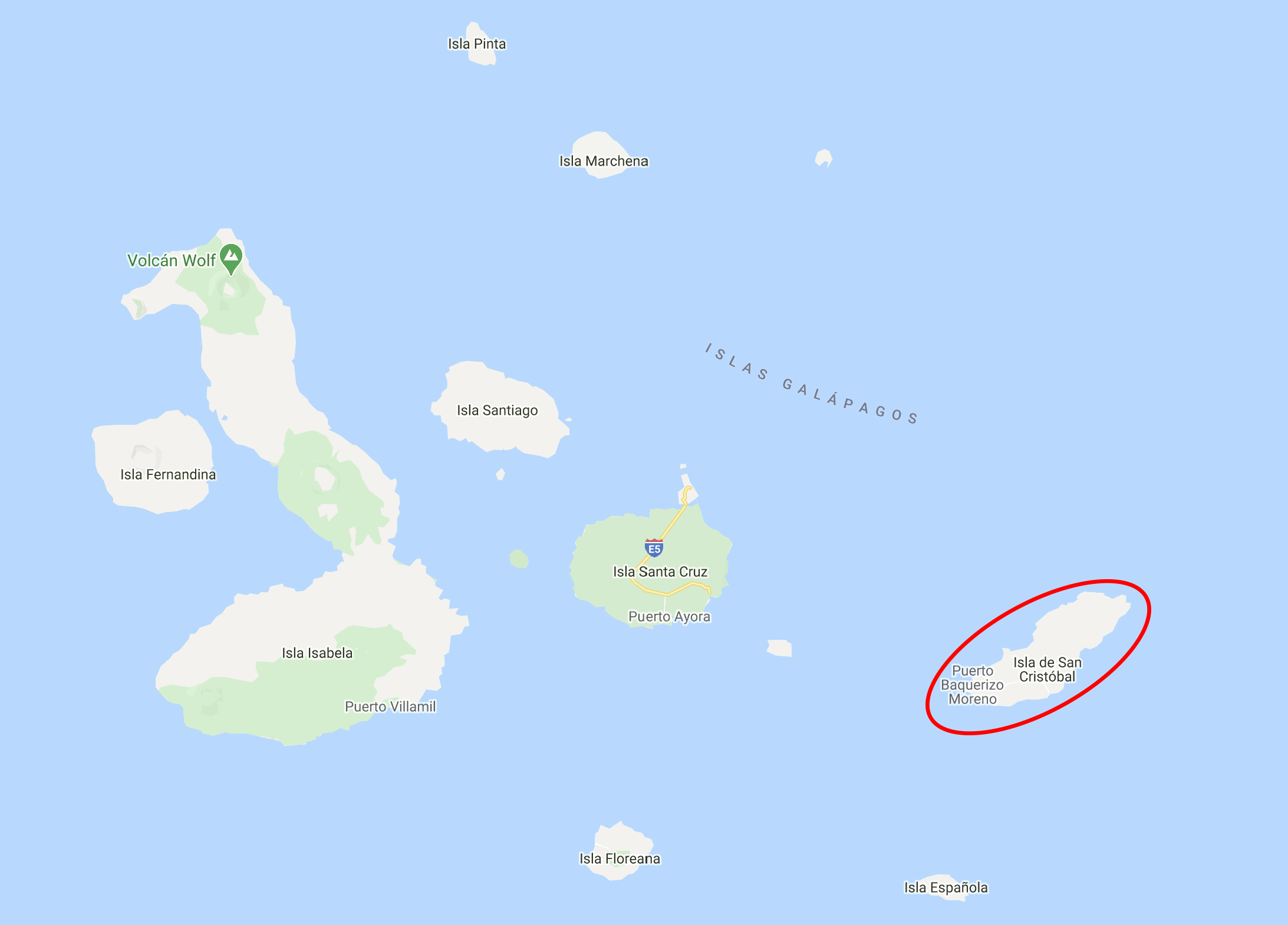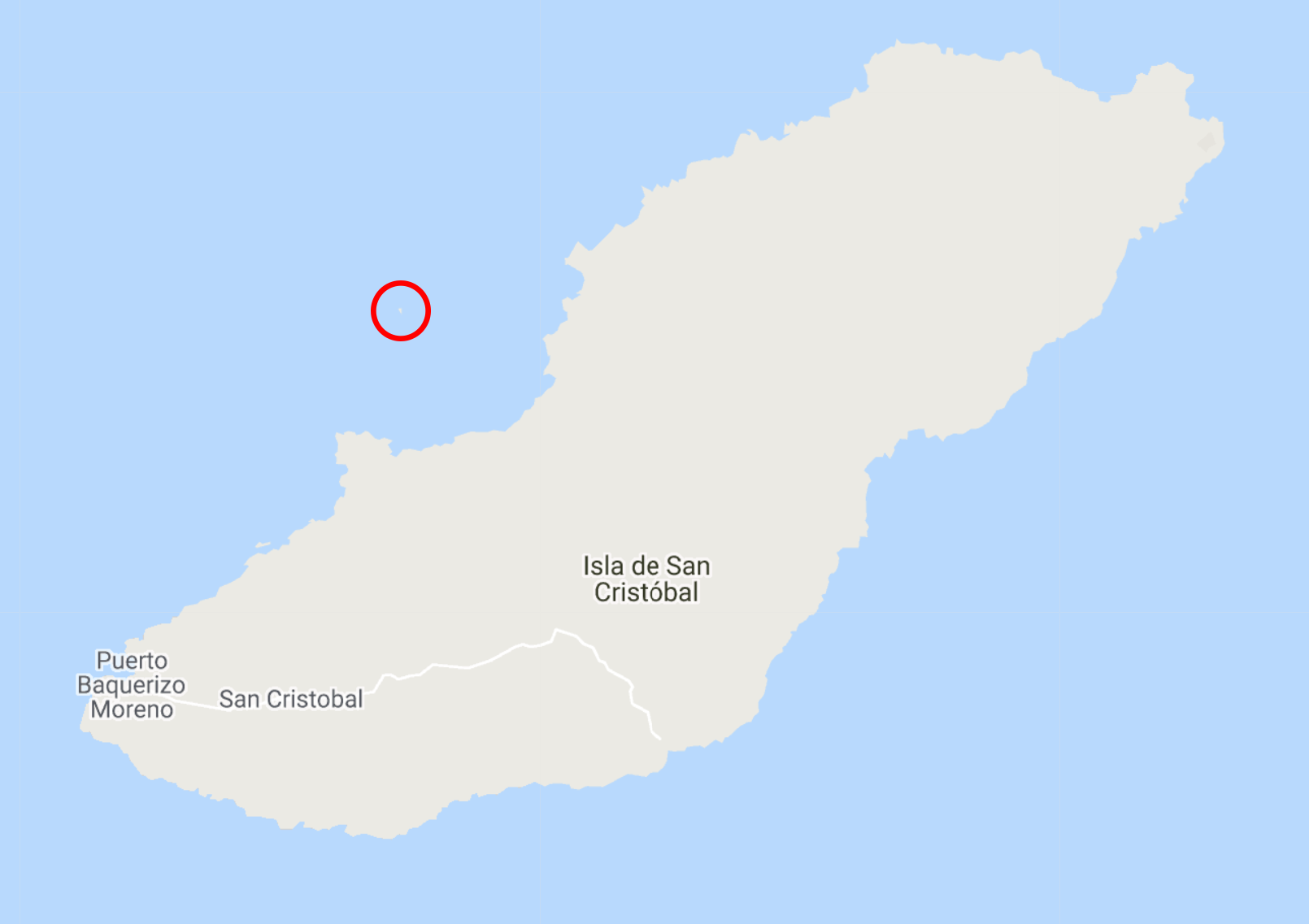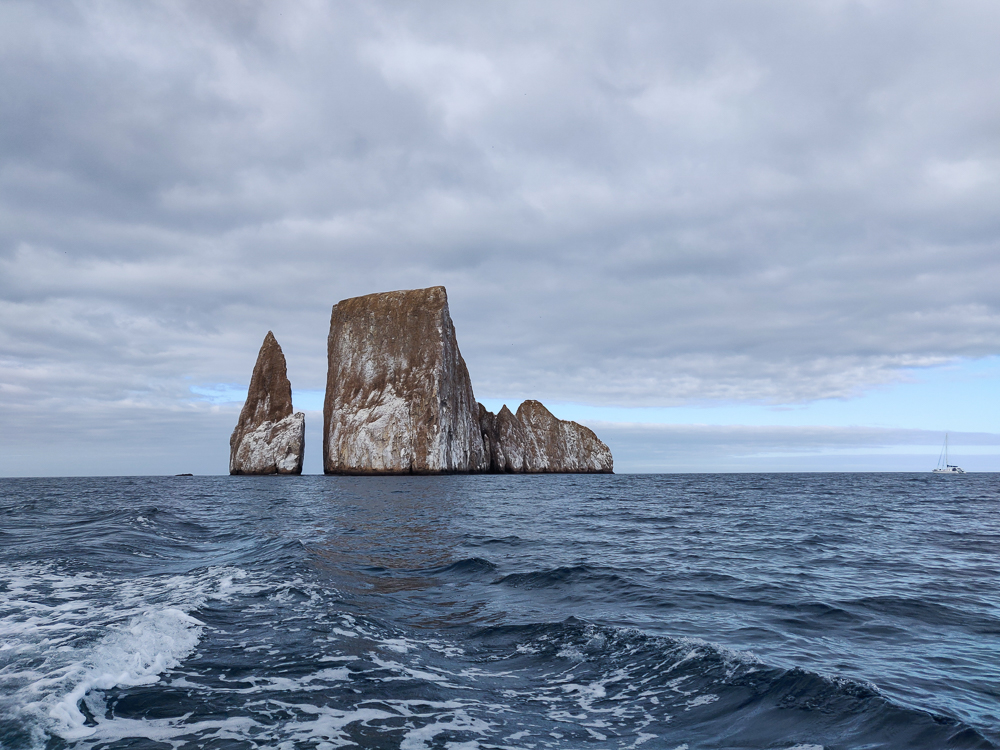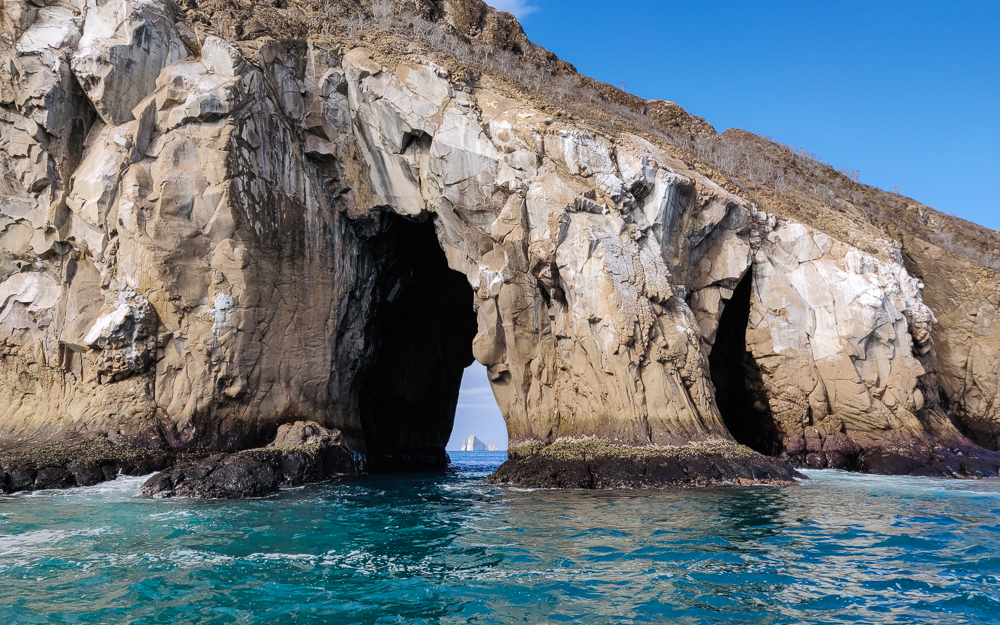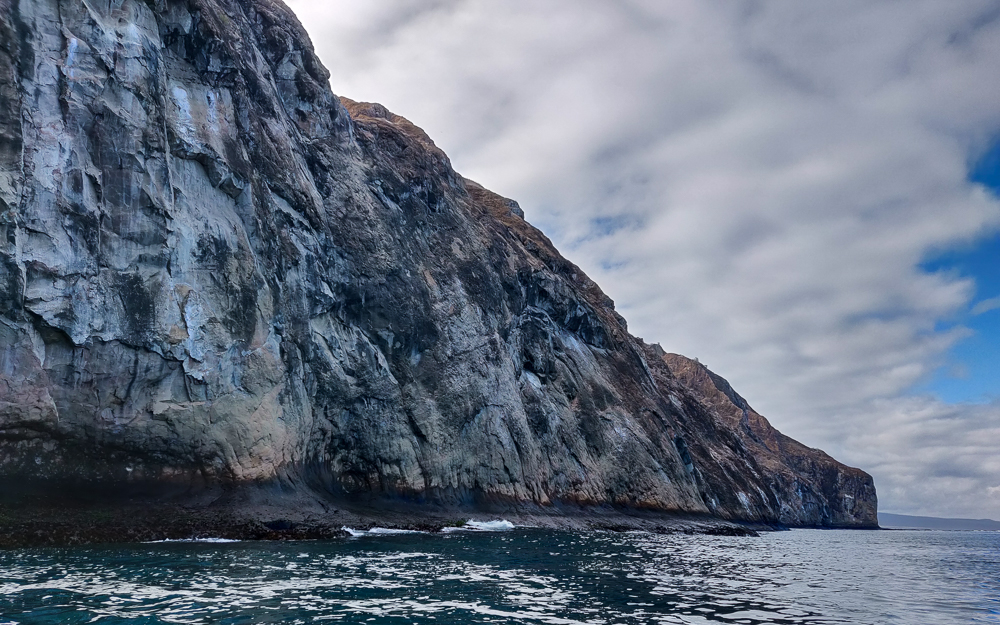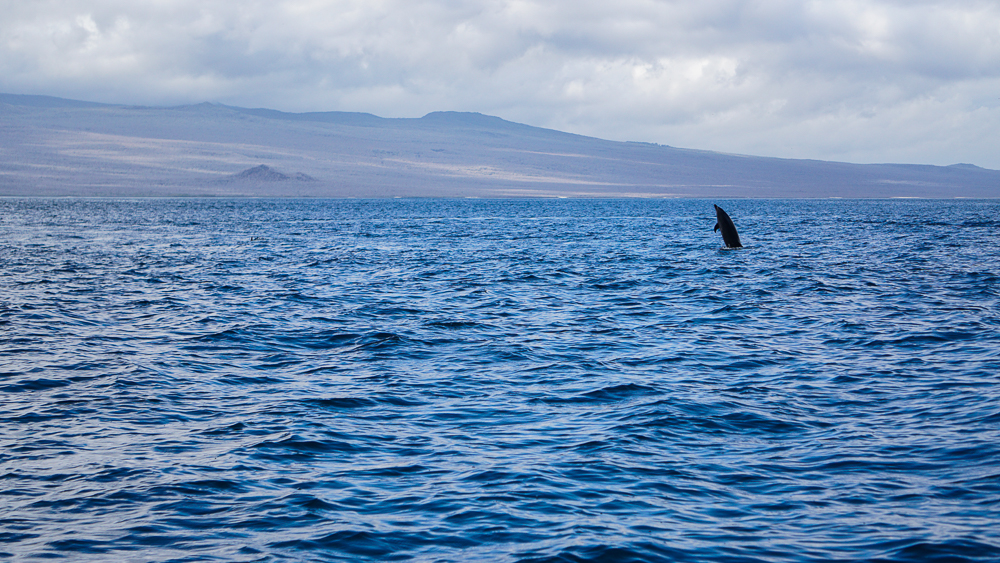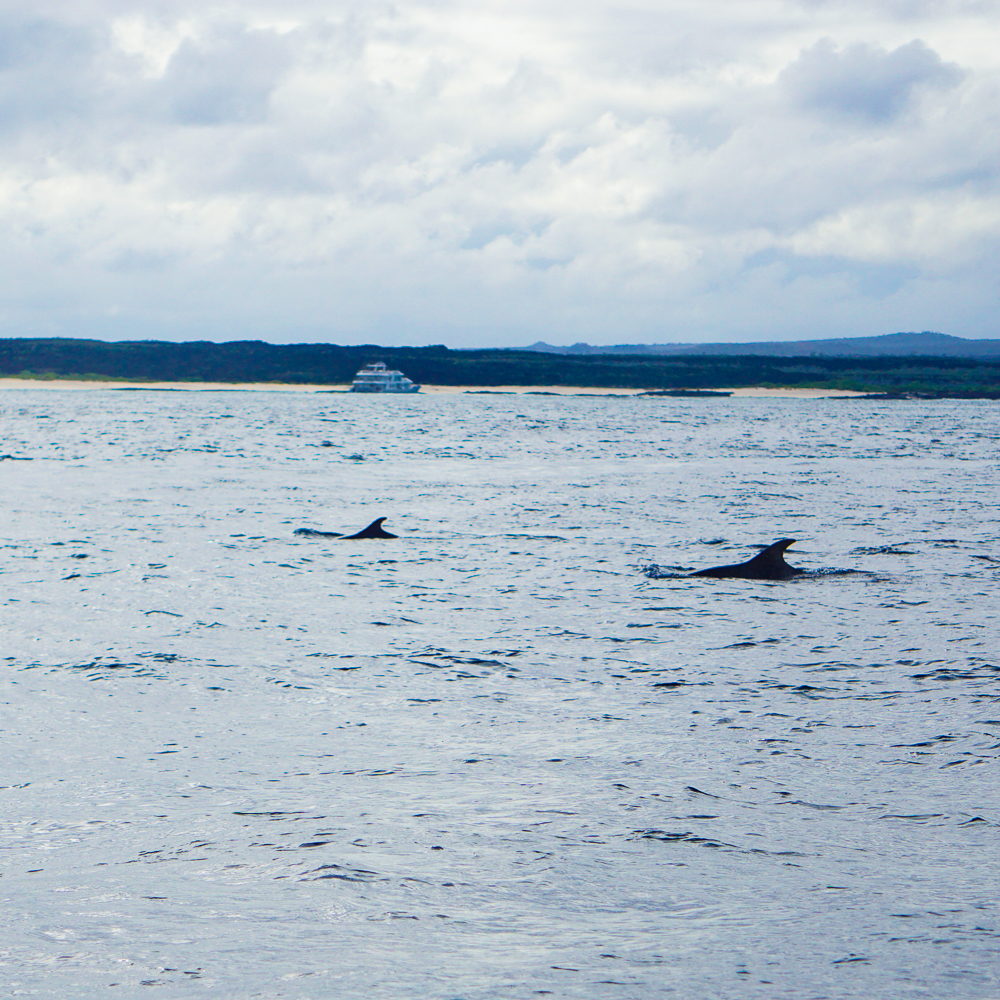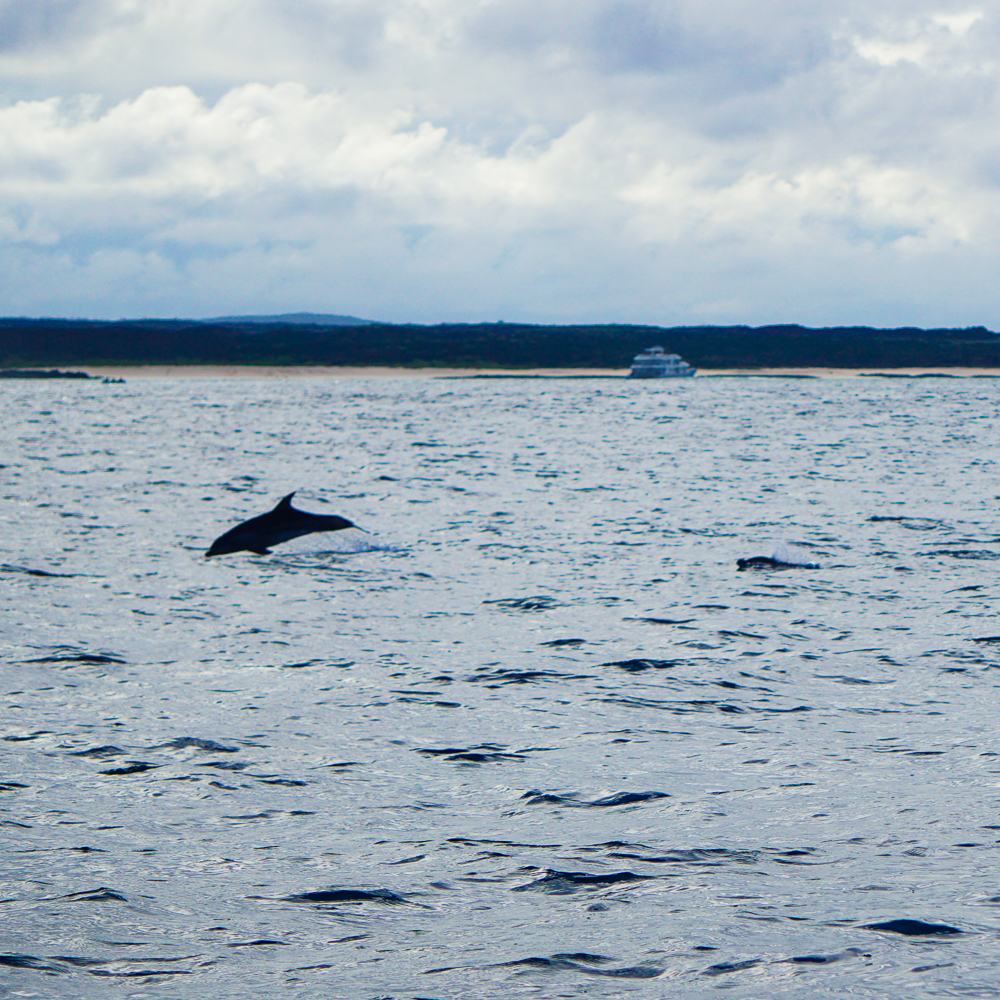 After about an hour, we made our first stop. The boat dropped anchor off the coast of the island, and we took a dinghy to the shore because the water was too shallow. There, we did our first "wet landing" which means that we had to get our feet wet, hopping out of the dinghy into the waves and walking up through knee-deep water onto the beach.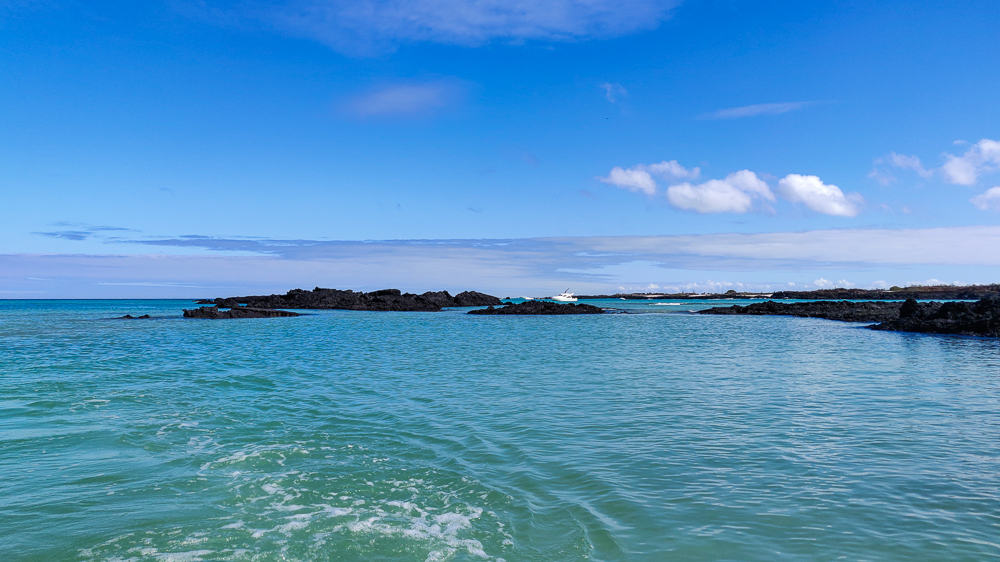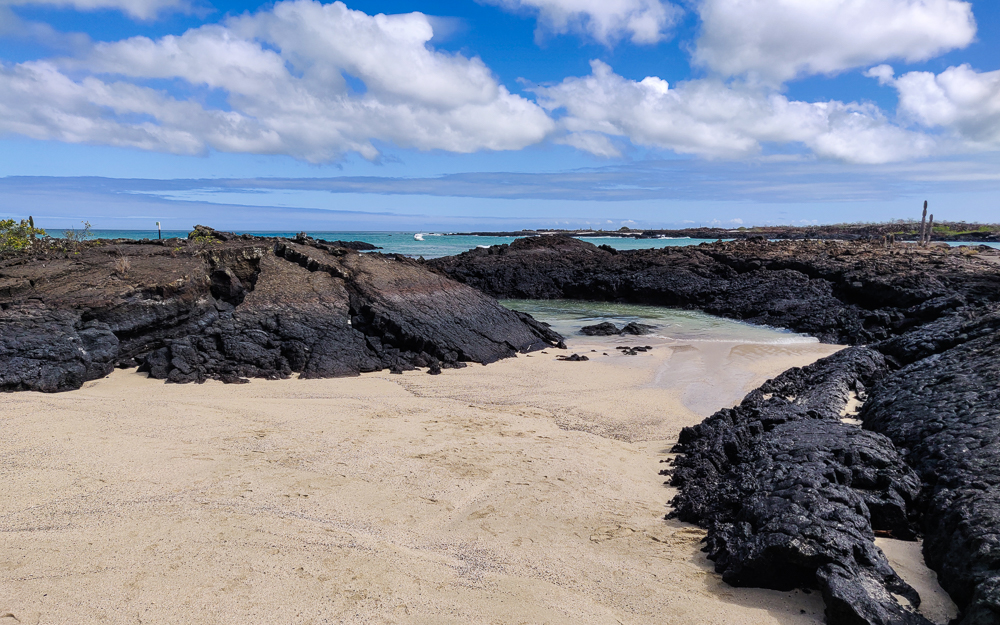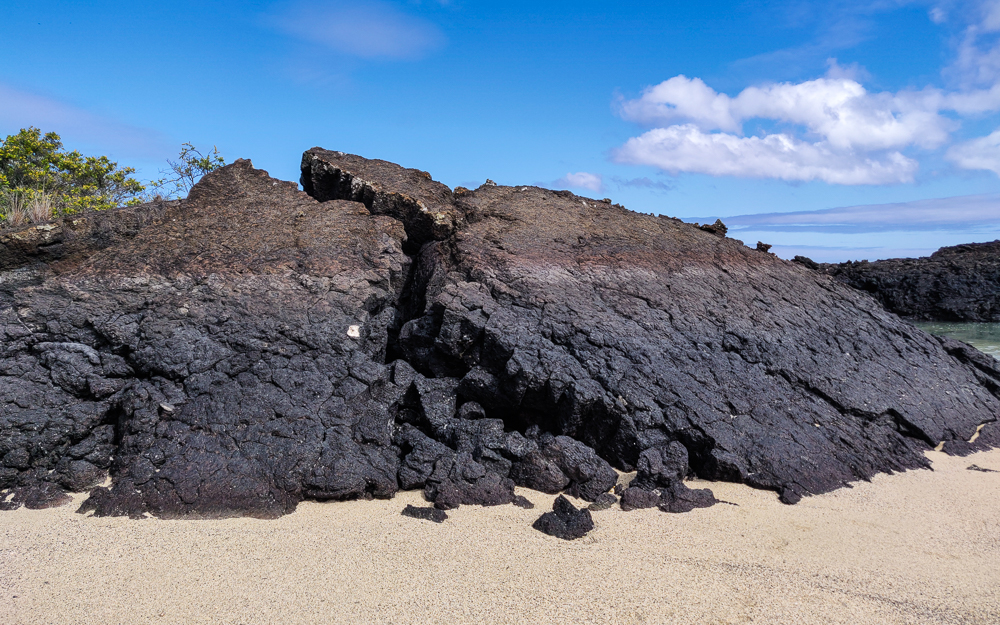 One of the many cool things about the islands of the Galapagos is that even though they aren't very big, they have some incredibly diverse landscapes. San Cristobal is less than 200mi2 (500km2), and sometimes it's a beach, sometimes it's like a rainforest, and sometimes it's like the moon (official terminology). This was a moon stop. That is, if the moon was made of lava that flowed and then cooled and still looks like it could have been flowing five seconds ago. Seriously, it's crazy! It's not hard to look at the wavy lava formations and imagine it as molten lava because it looks like it was frozen in action. There are also these fantastic cracks in the ground which are almost exactly like how it looks in a cartoon when there's an earthquake and you think "that's so unrealistic".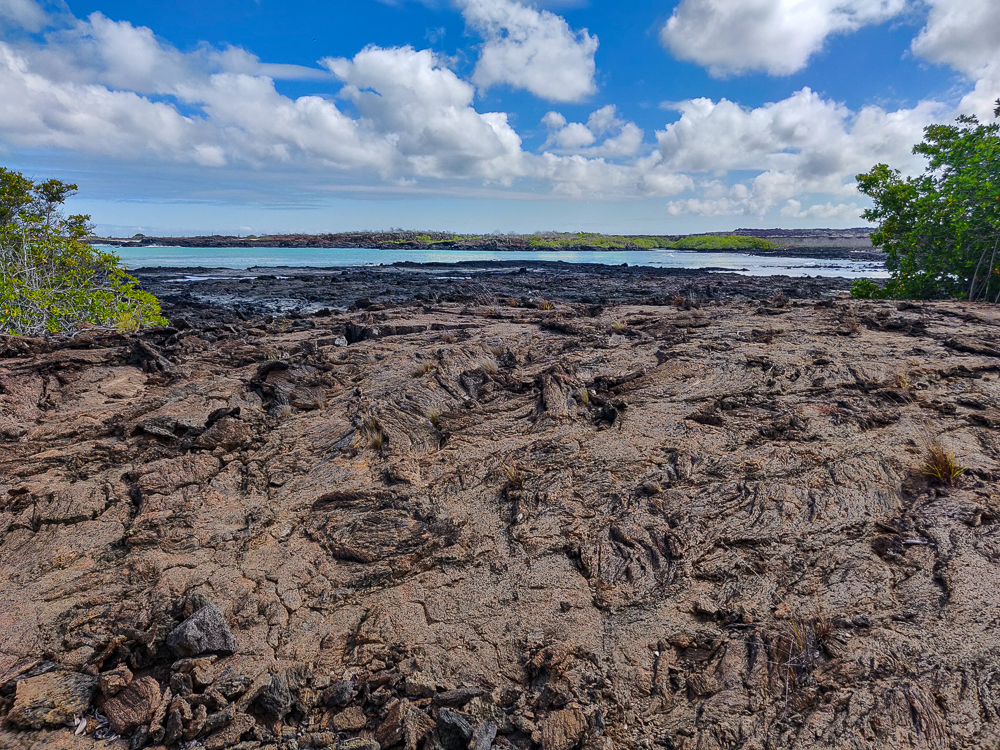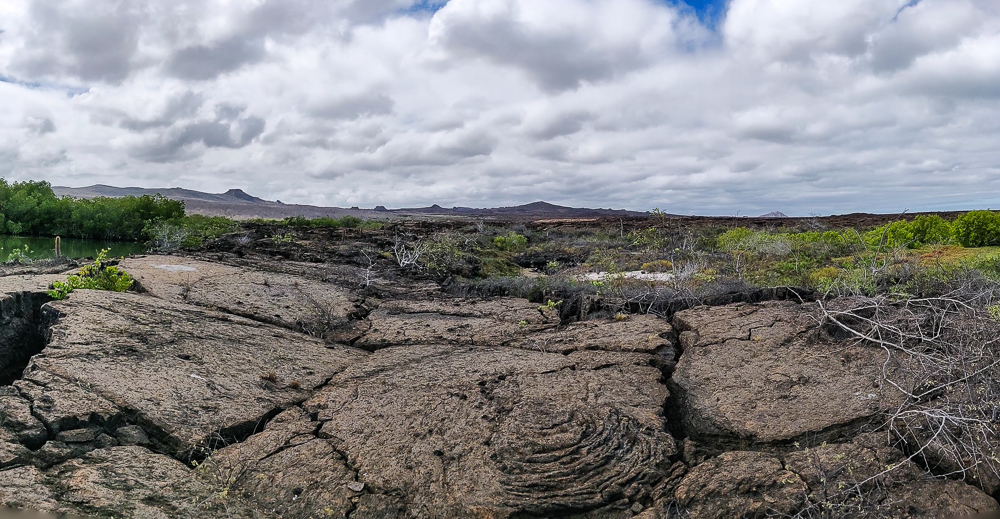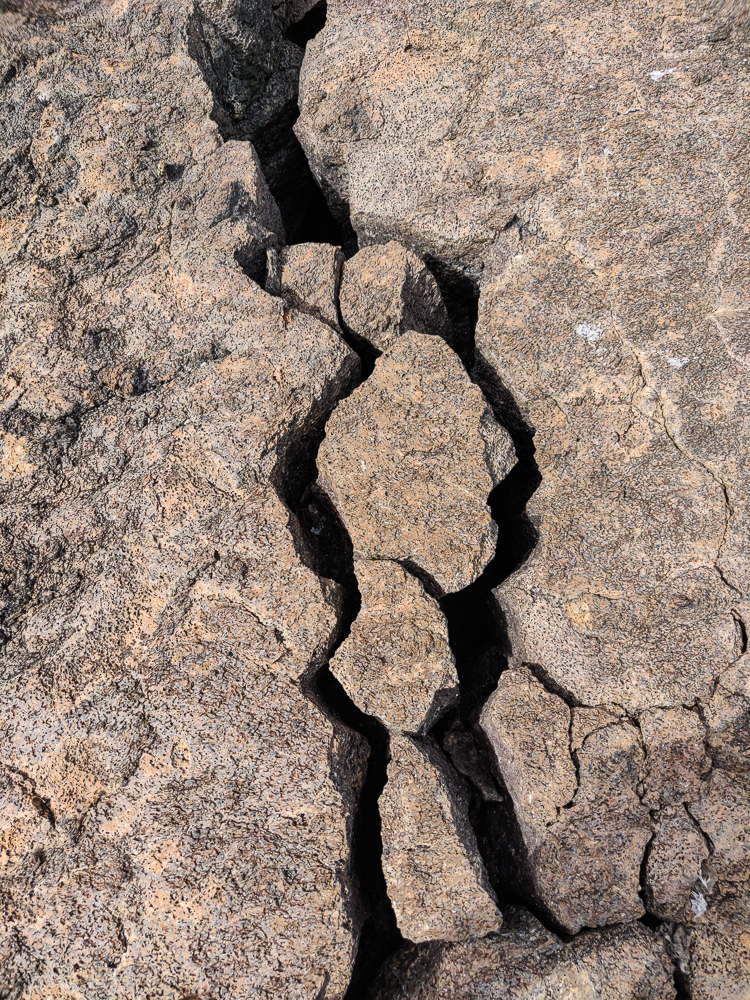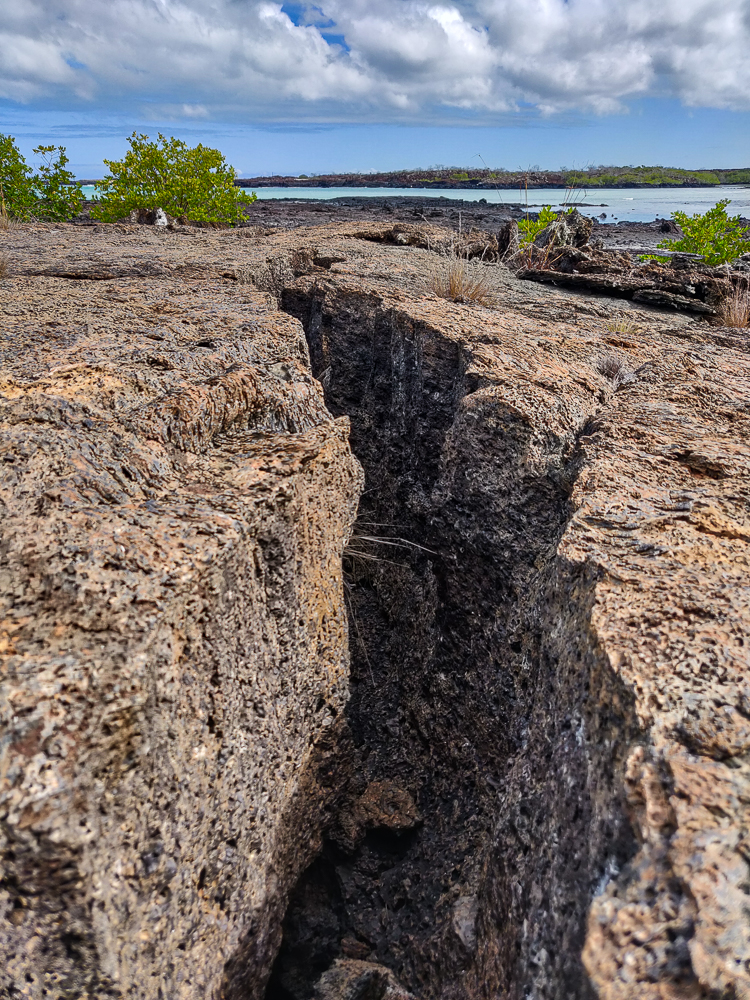 I think the lava shapes are super awesome, and I was also in awe of the colors! There's iron in the lava, and it oxidizes (like rust) and makes it turn shades of red/orange! Generally, the landscape is pretty barren, and I found it kind of eerie. It's like looking back in time to a prehistoric age. Or like the moon (basically the same thing). And it was creepy quiet when no one was talking, aside from the sound of the wind and loose lava pieces clinking across the ground anytime someone accidentally kicked one. It sounds almost like if you tapped two pieces of porcelain together. Besides the lava, we saw a few birds and some cacti, but it wasn't exactly a hot spot for wildlife.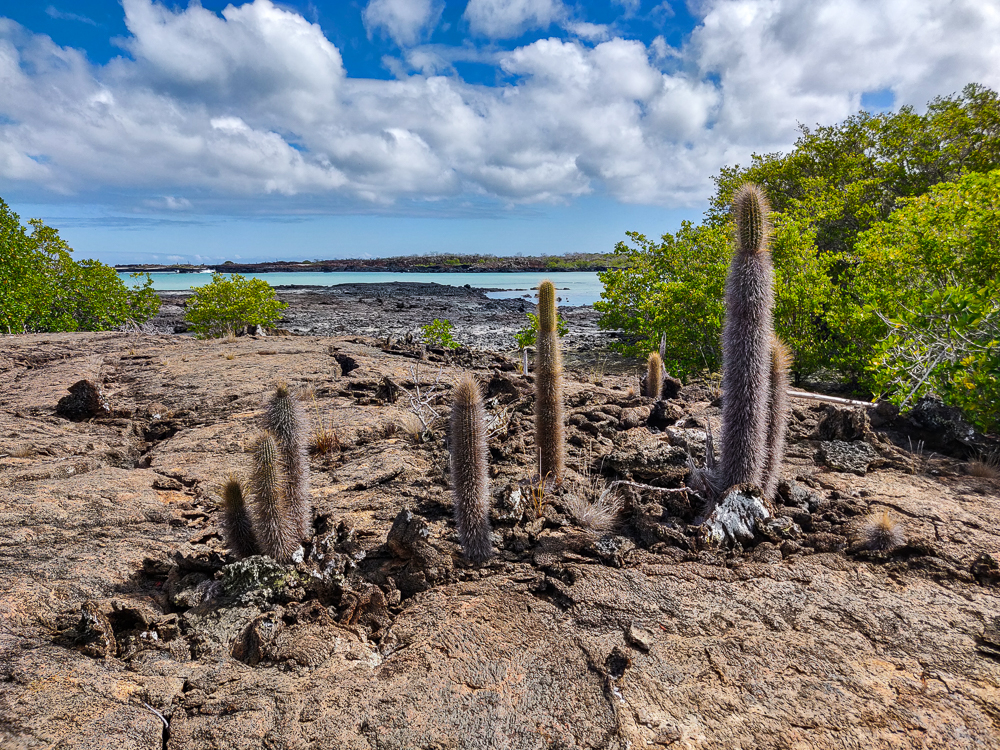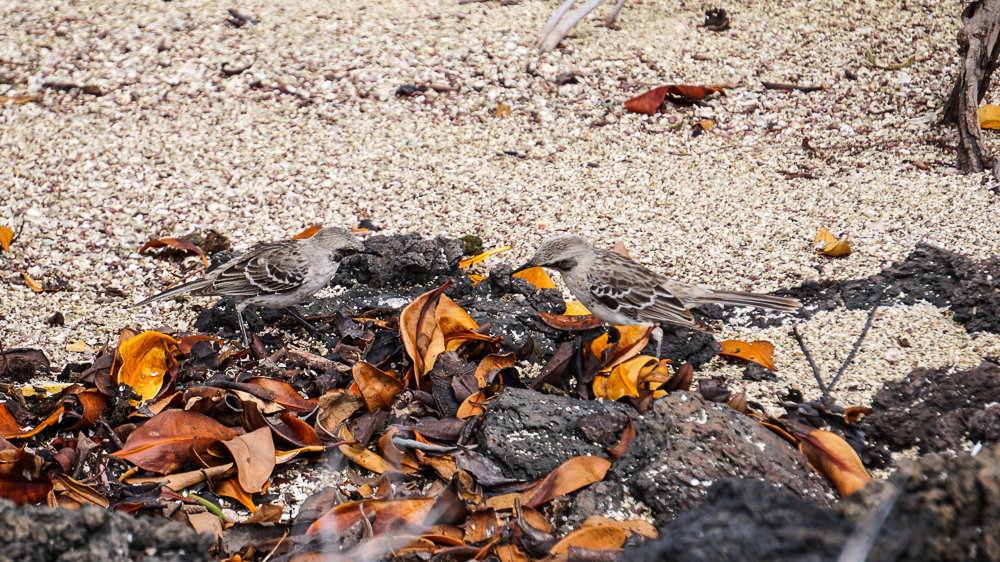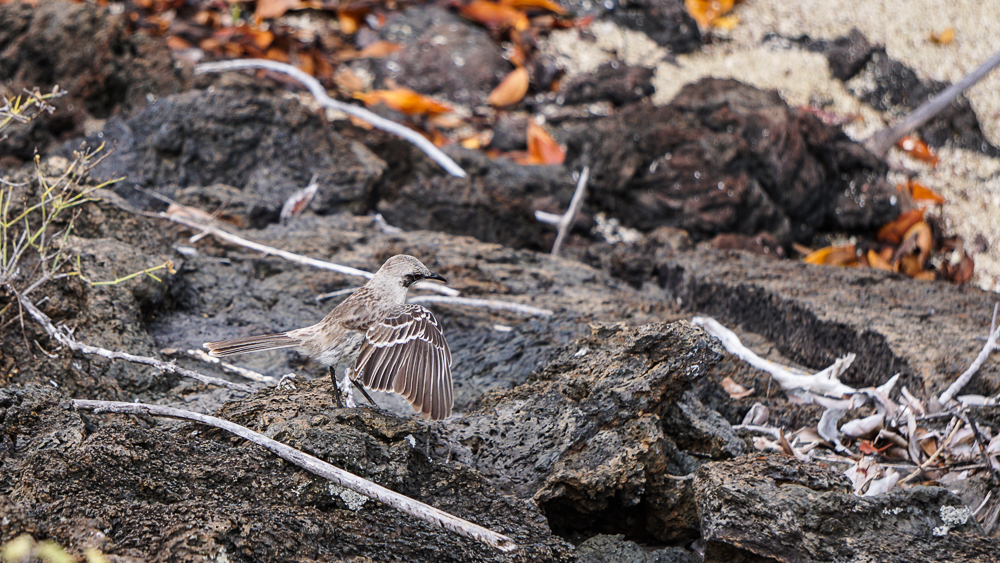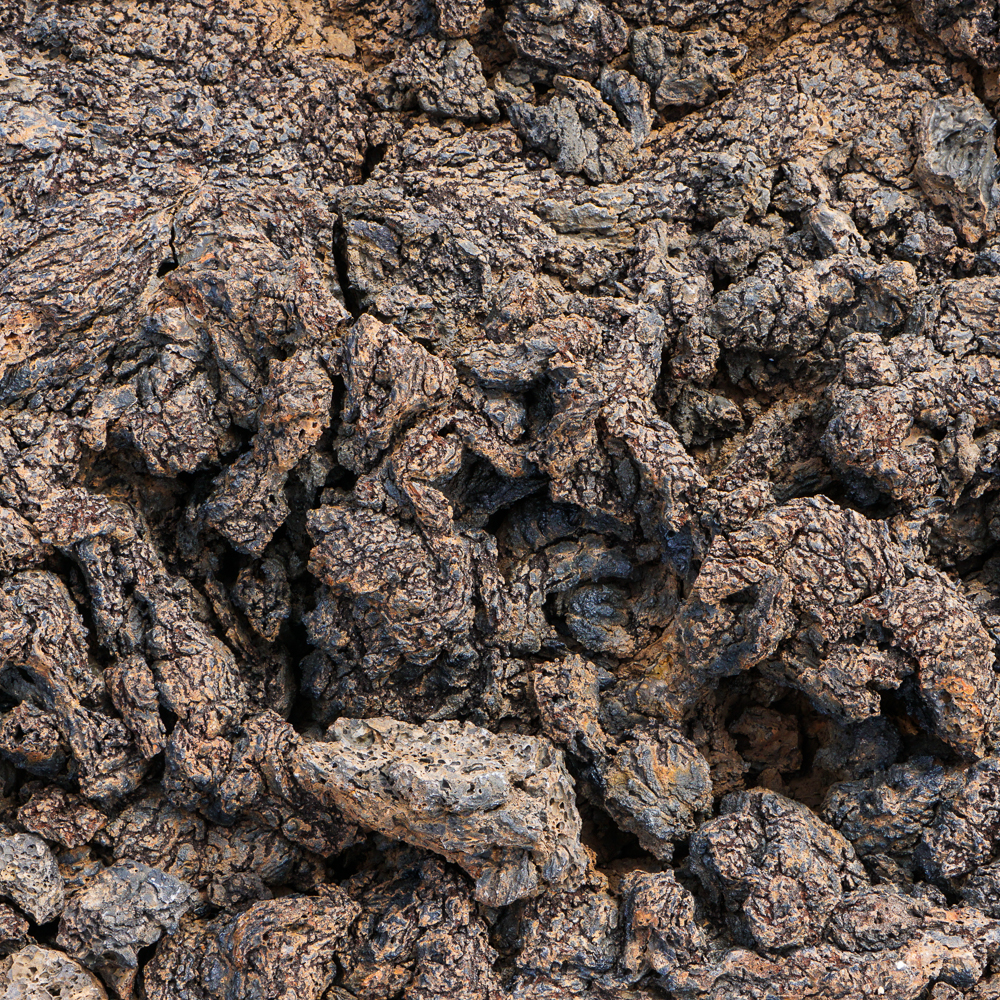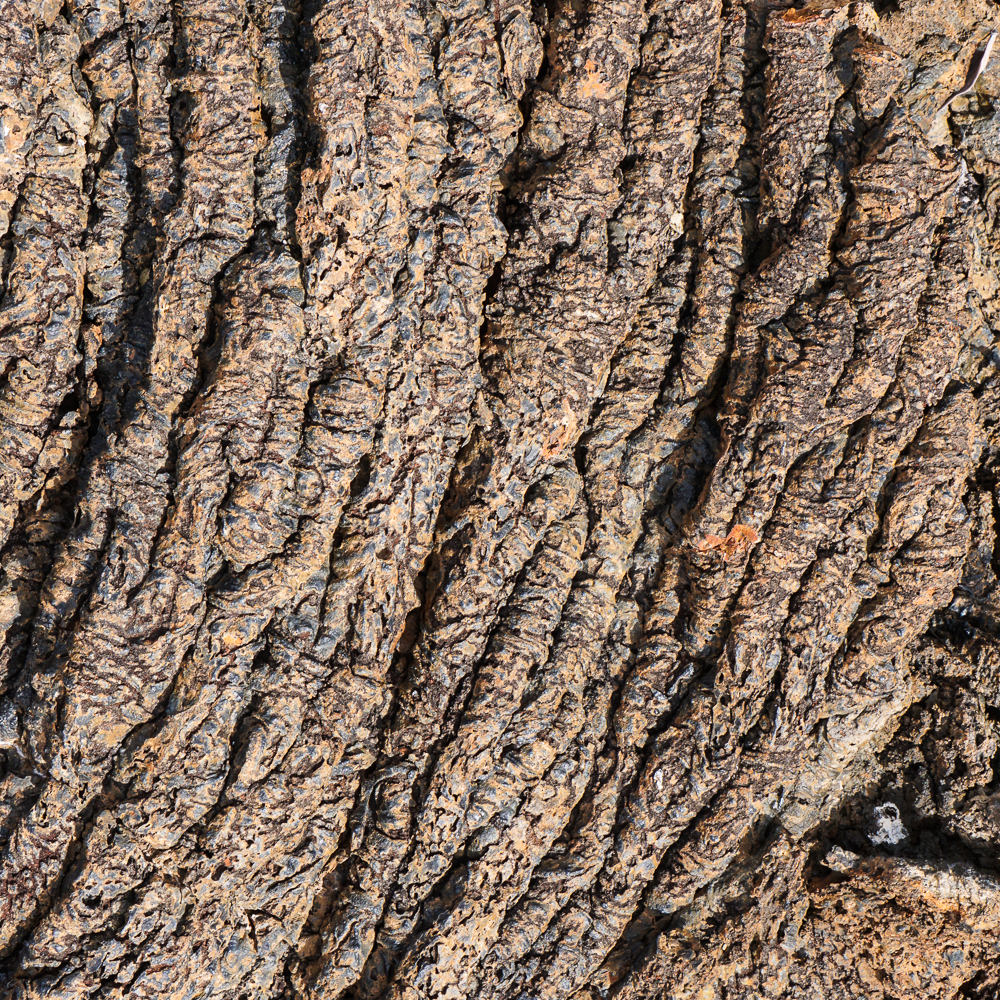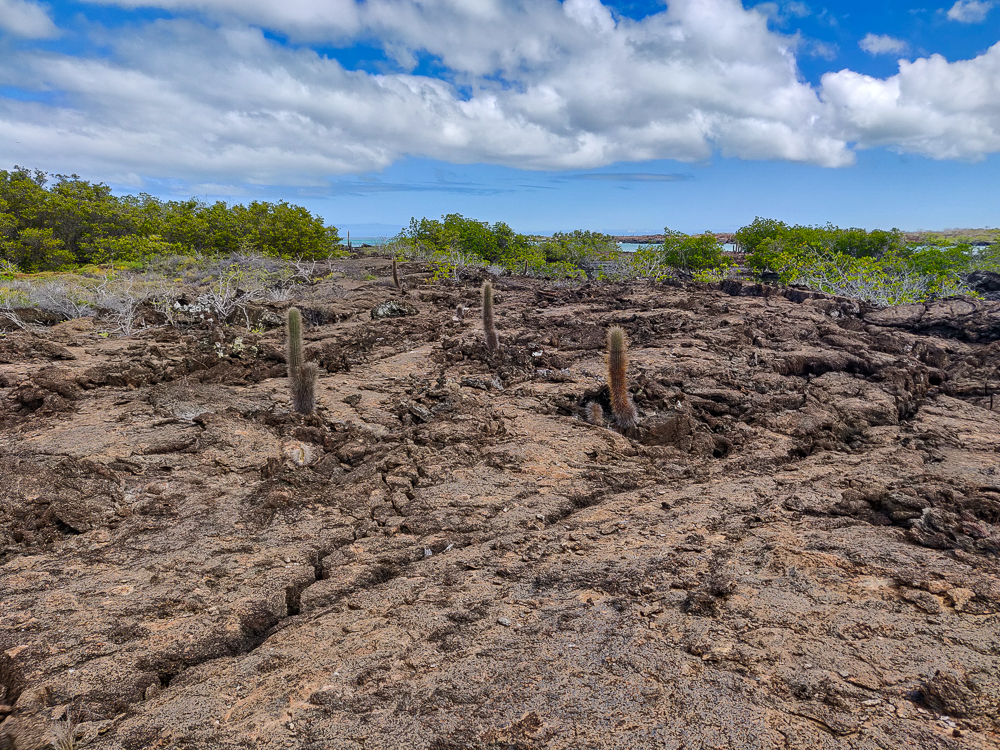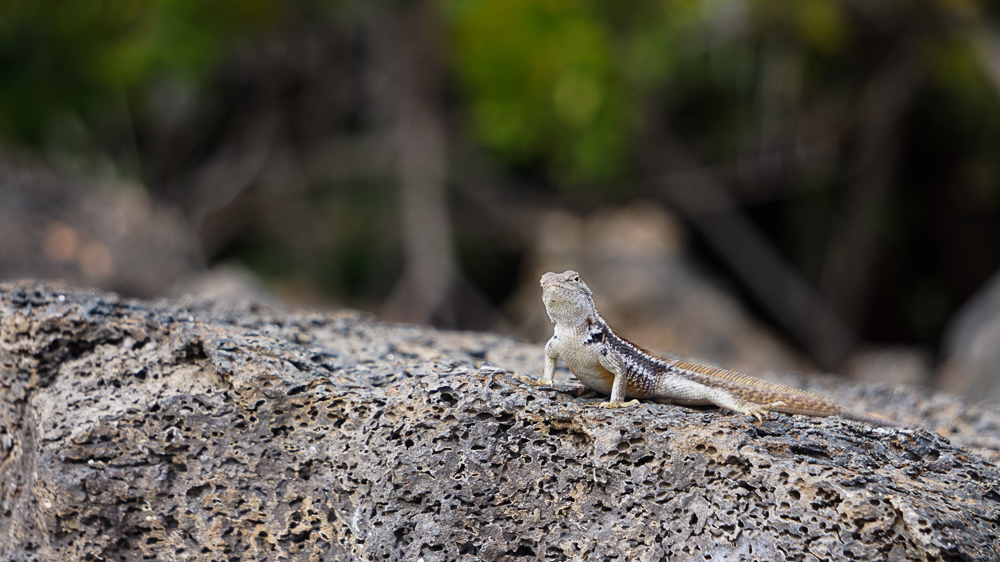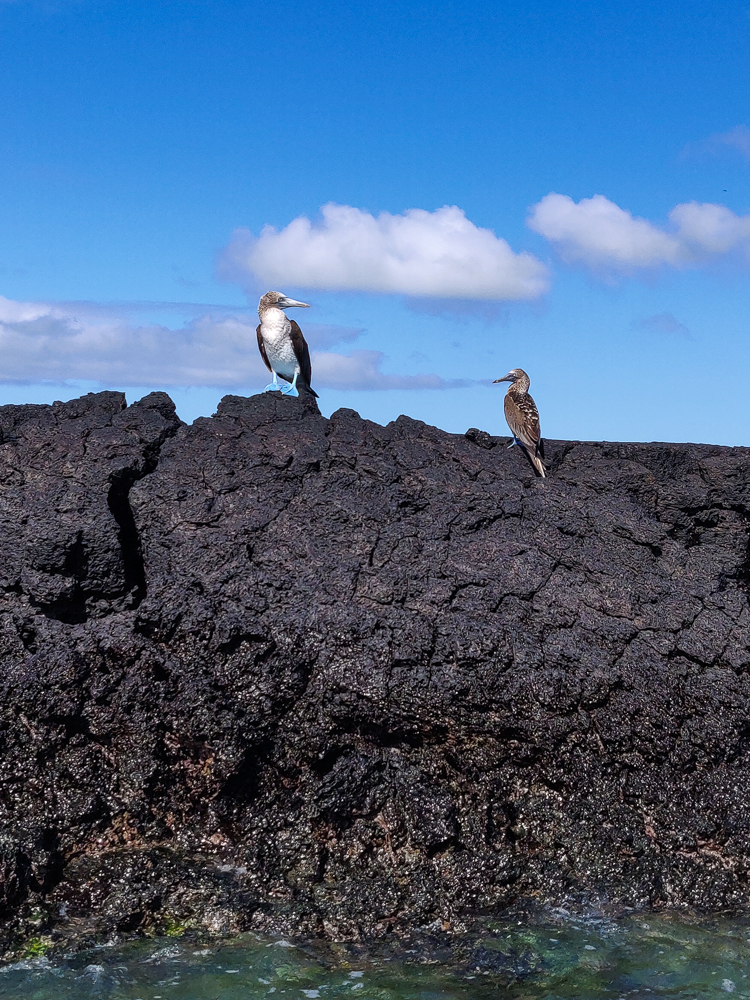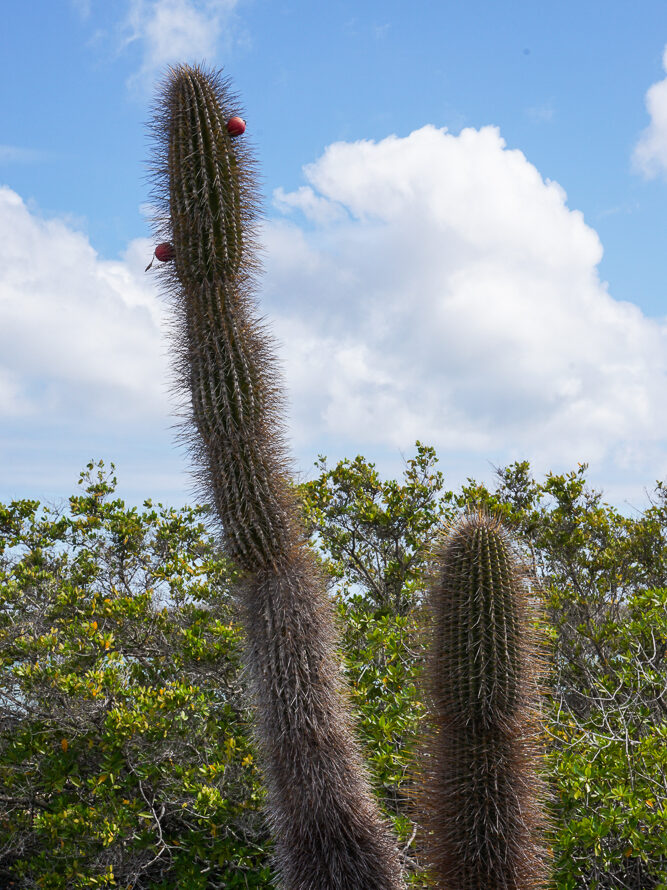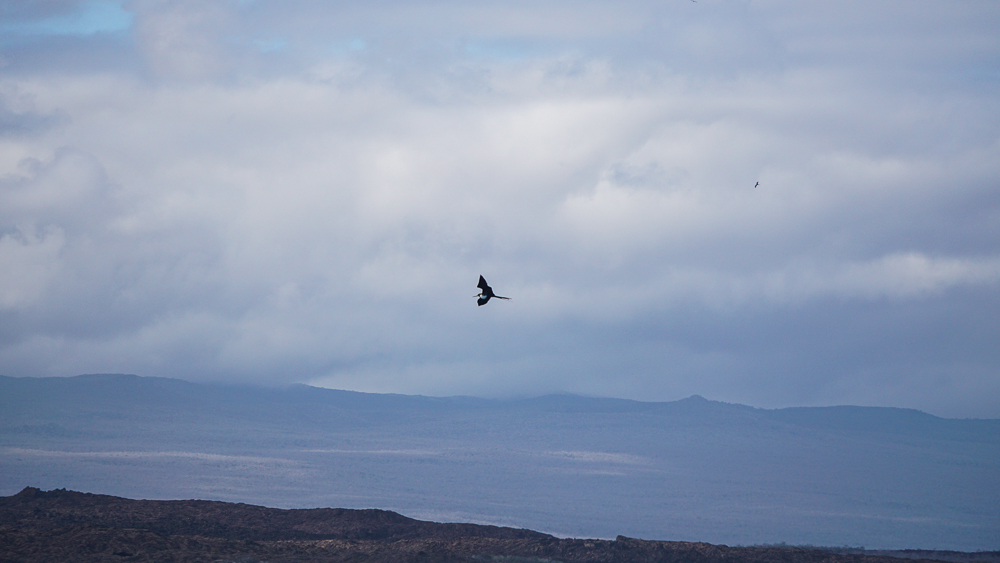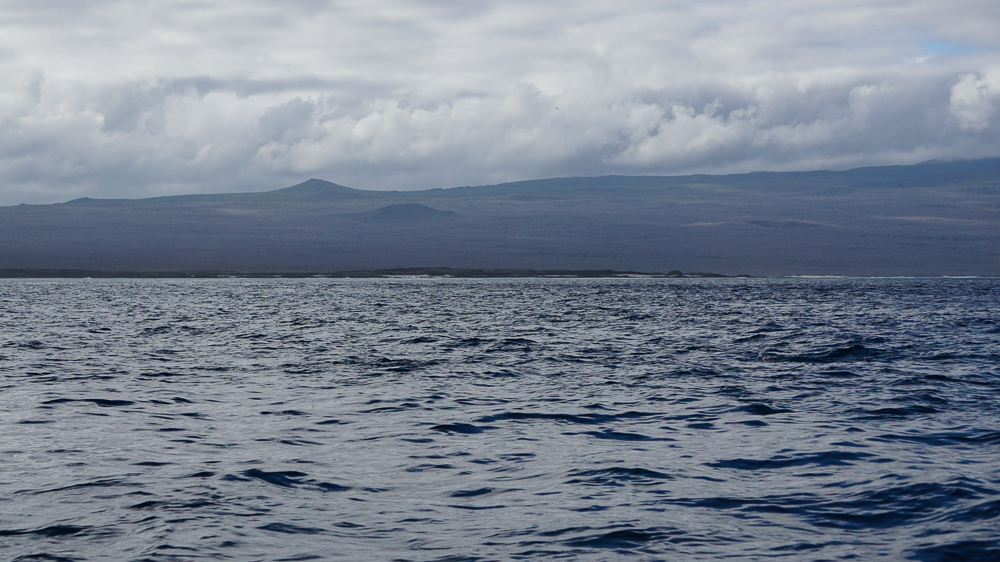 For our next stop, the boat headed west (back in the direction we came) for a few minutes, and then we did the whole dinghy/wet landing deal at a beach, Cerro Brujo or "Witch's Hill", named for a craggy ash mountain at the end of the beach that I guess someone thought looked witchy? The guide said it's one of the best/most beautiful beaches in the world… and then we also heard that said about at least five other beaches in the Galapagos alone. I'm no beach expert, but it seems like a tough call when every beach has the same deep blue waters and powdery white sand. But hey, I'm not complaining!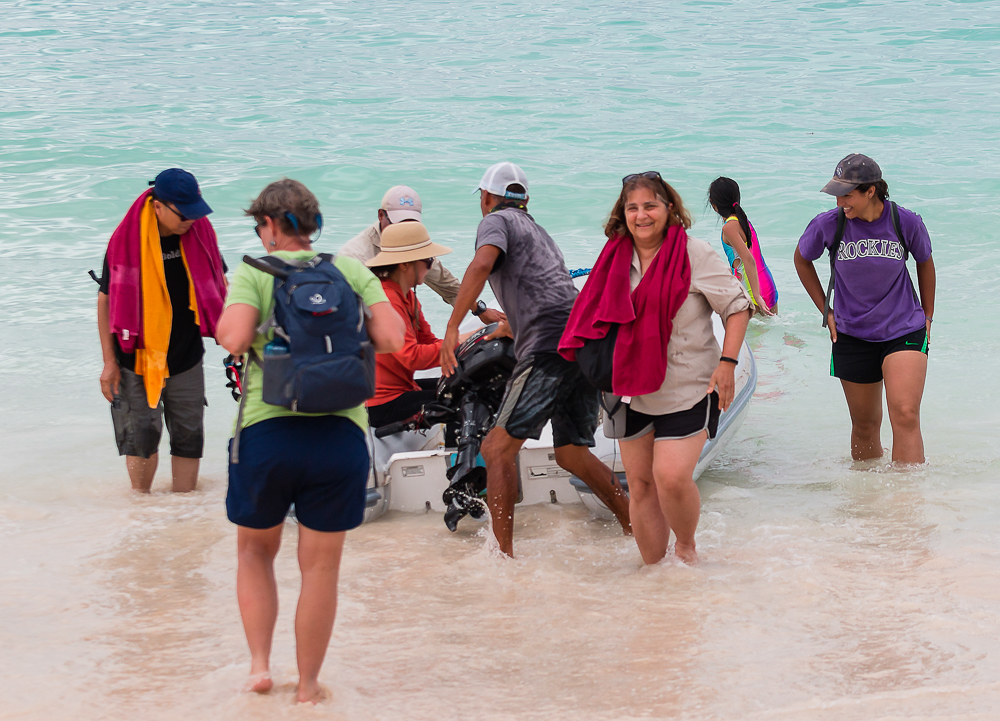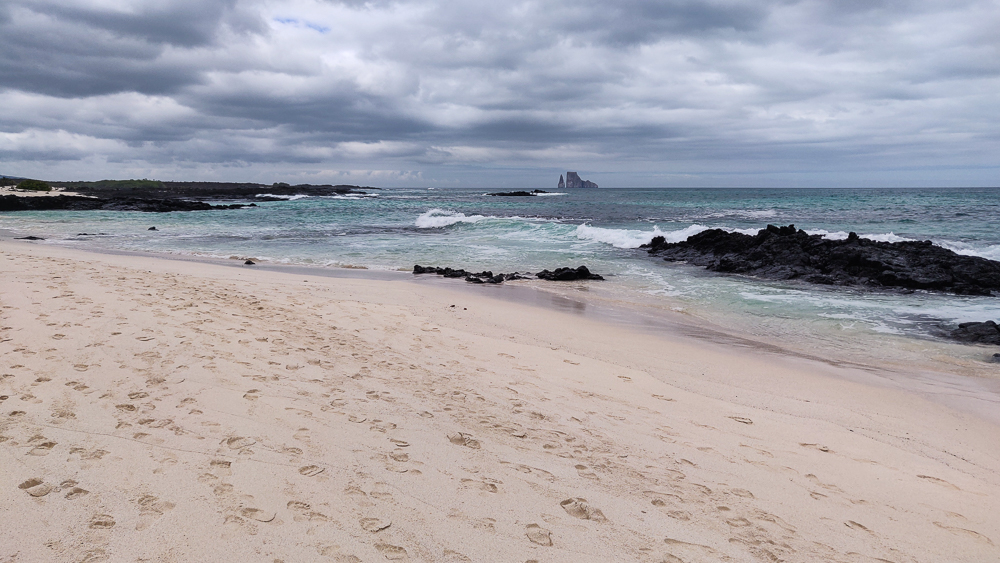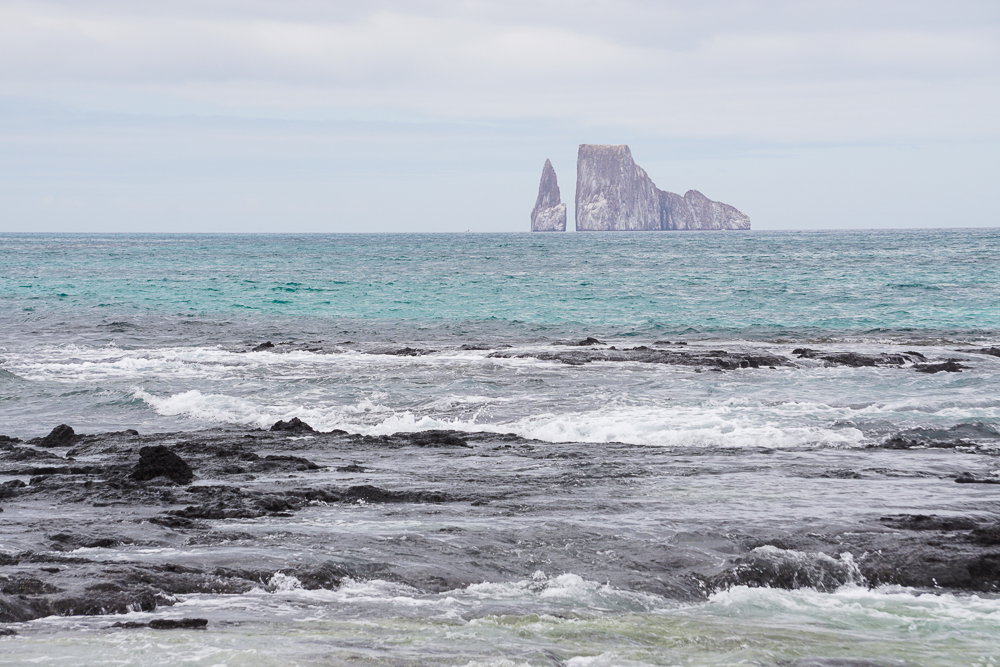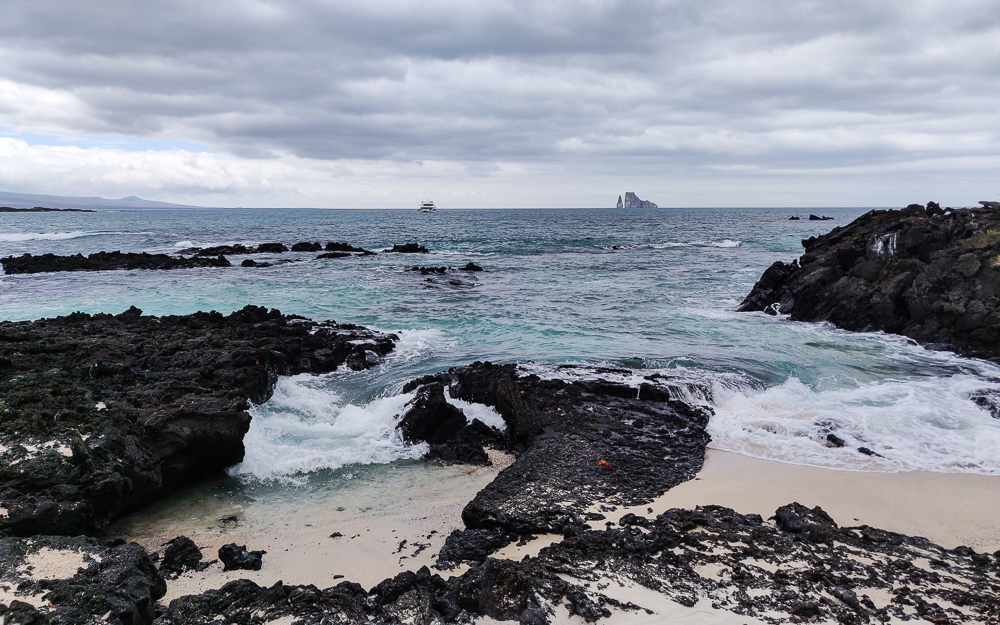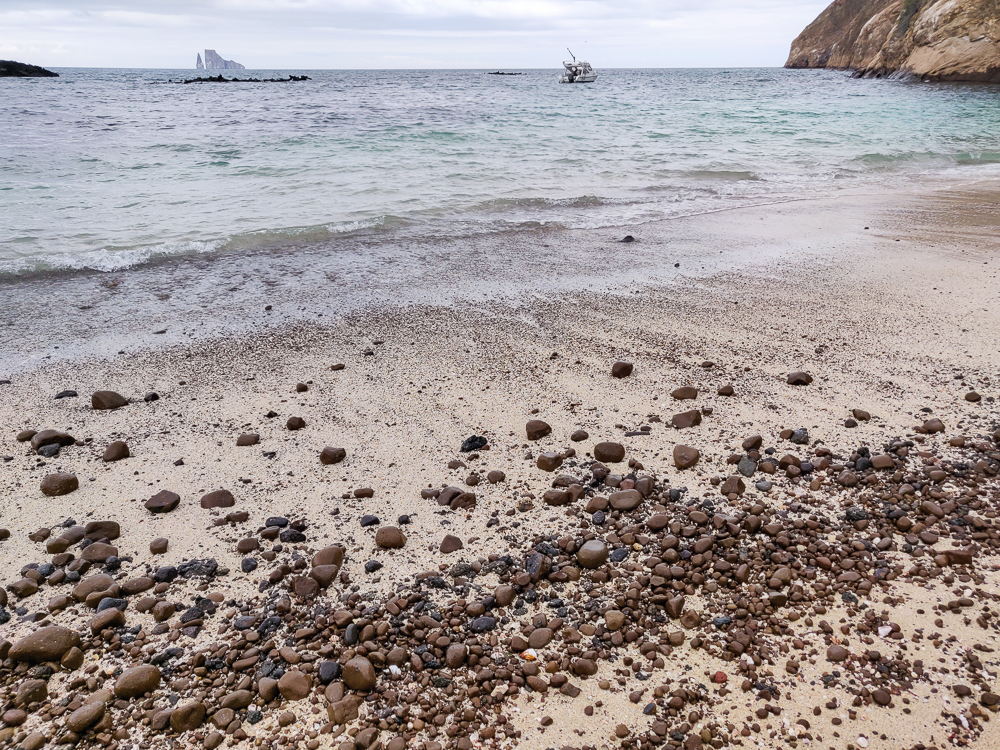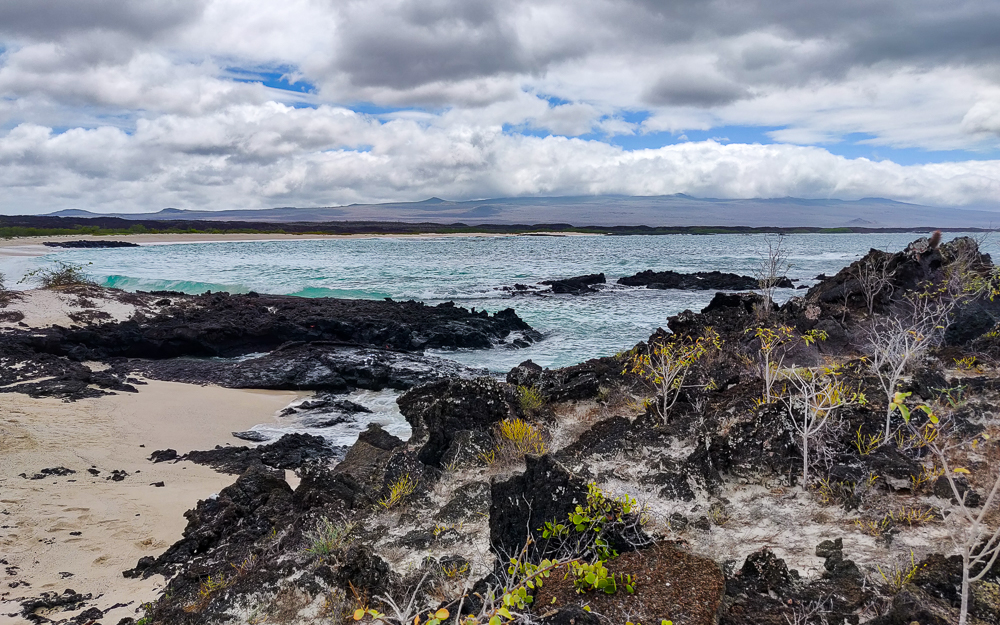 I spent our free time at the beach walking along the shore and admiring the birds. There wasn't anything new, but we saw more oystercatchers which was exciting (I felt like such a birder because I knew exactly what they were), plus the usual iguanas and sea lions.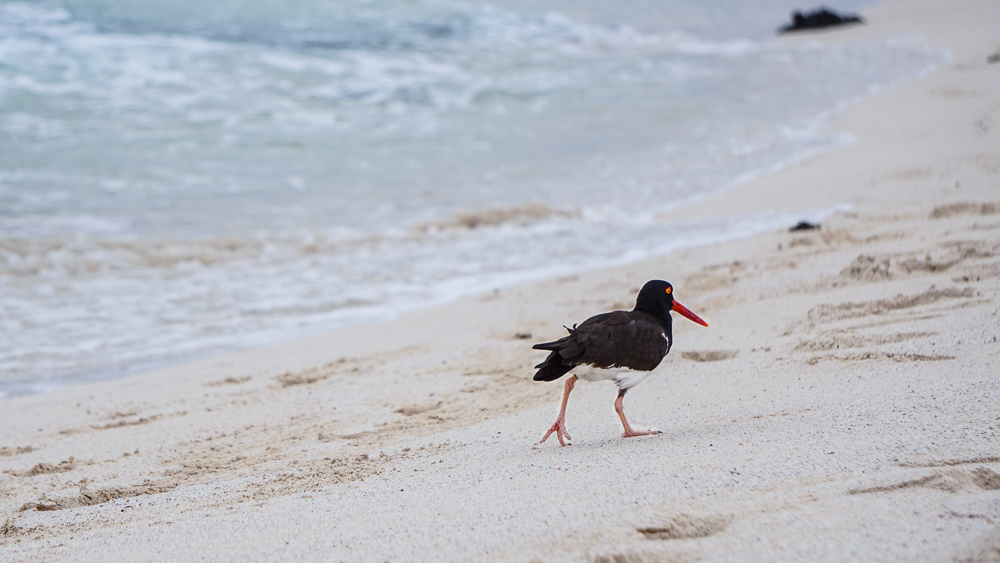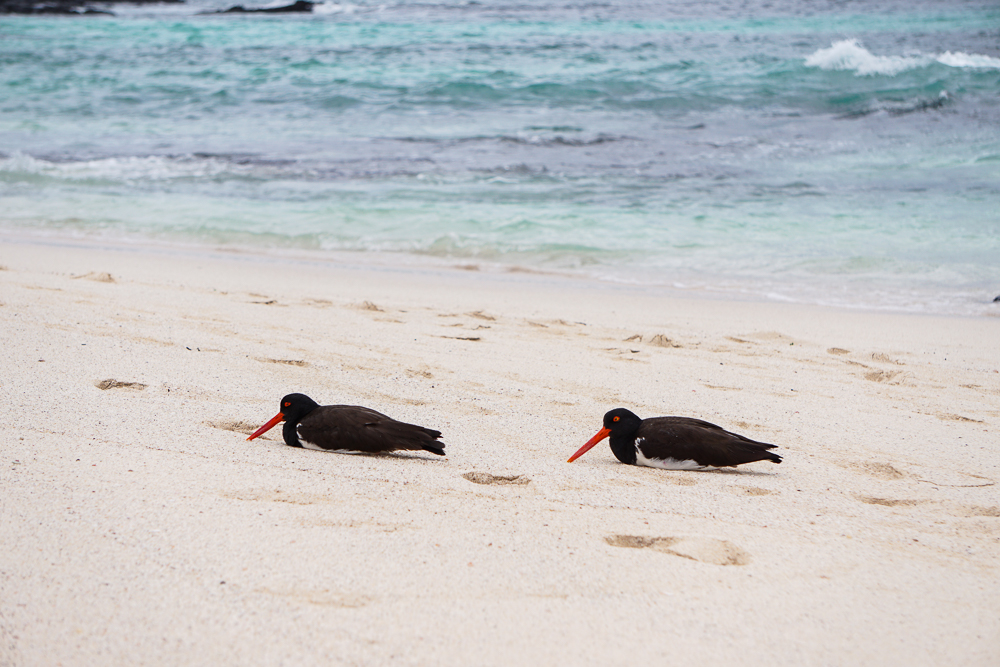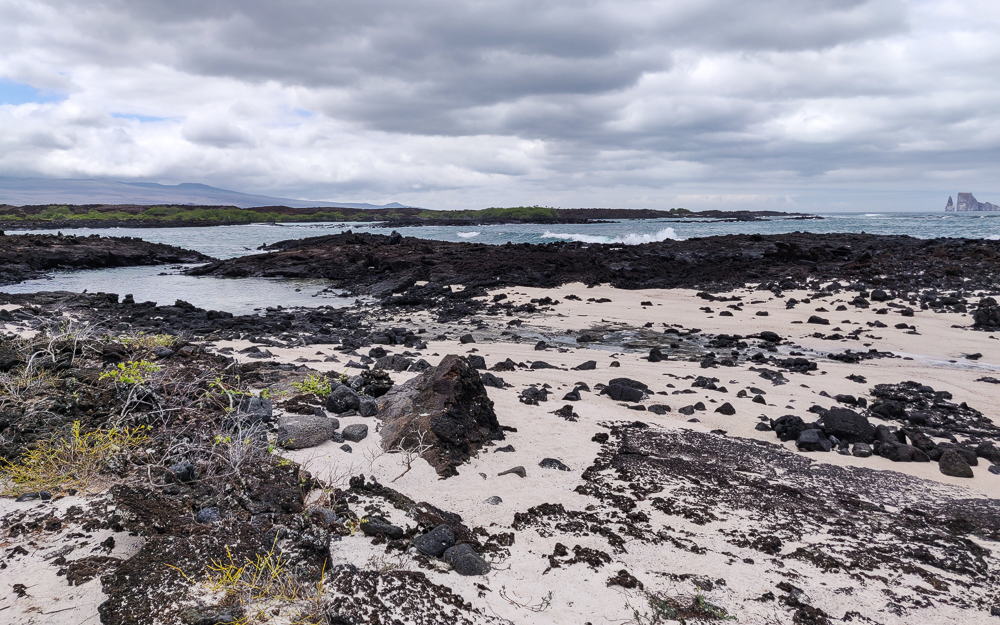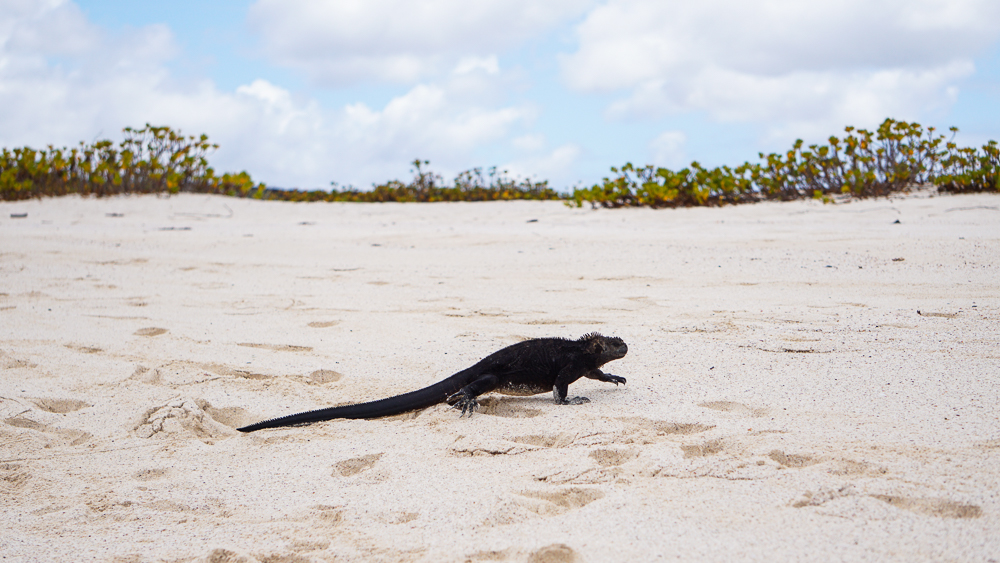 It's very entertaining to watch the marine iguanas walking. Plus, when they're feeling defensive, they do this weird head-shake thing.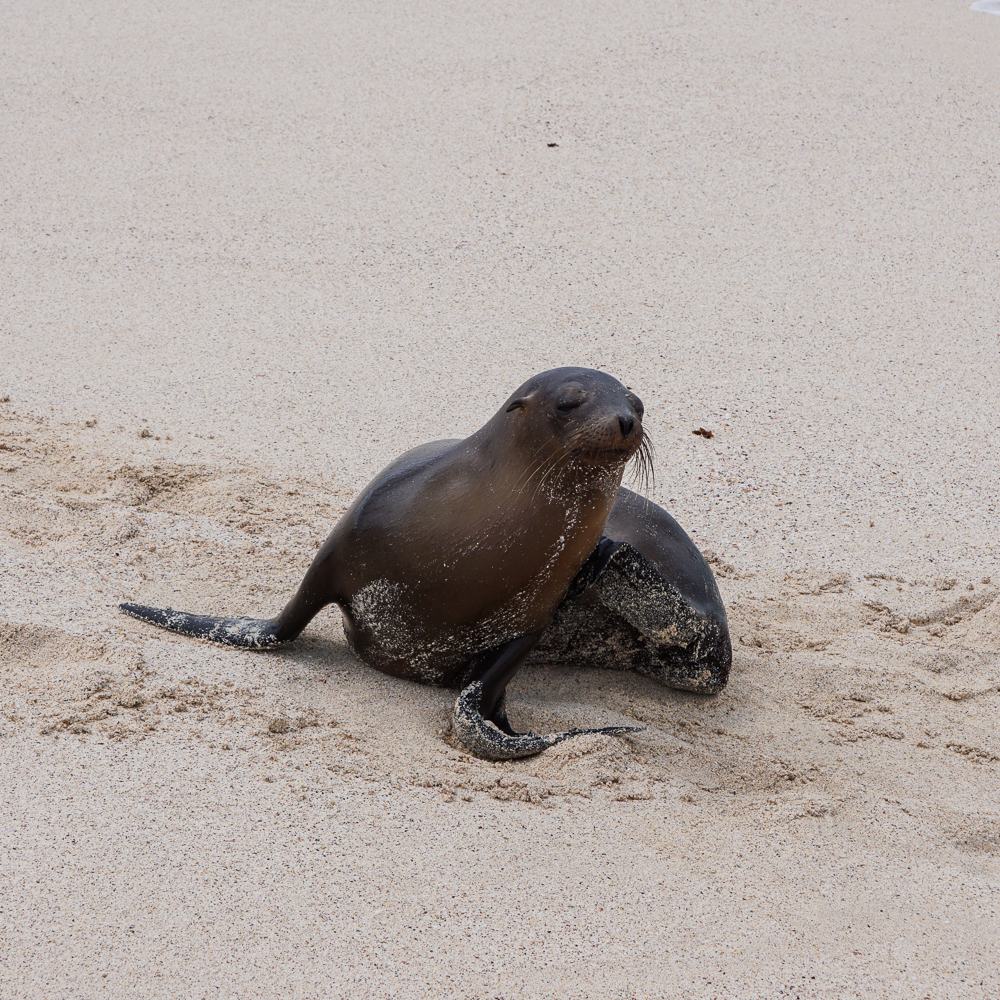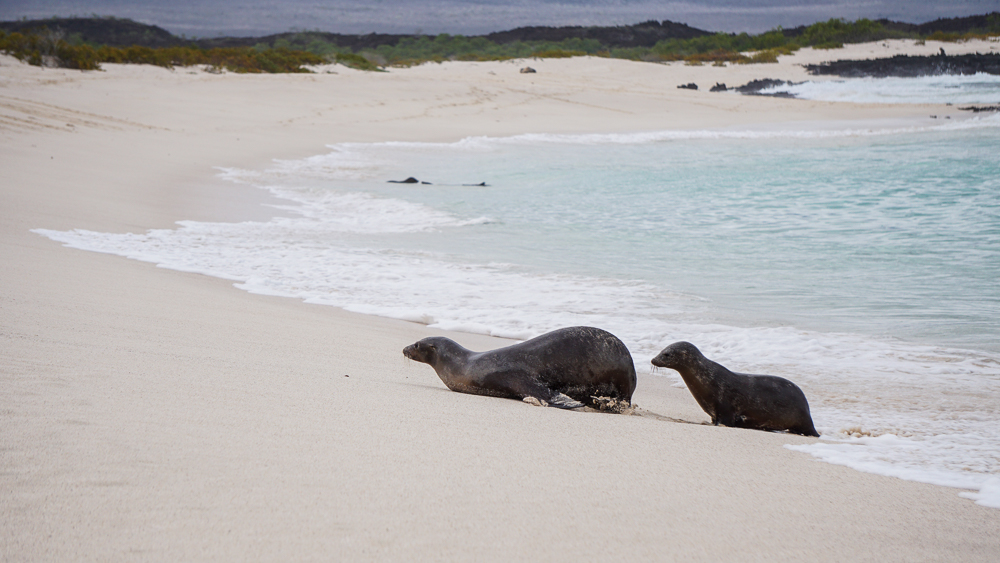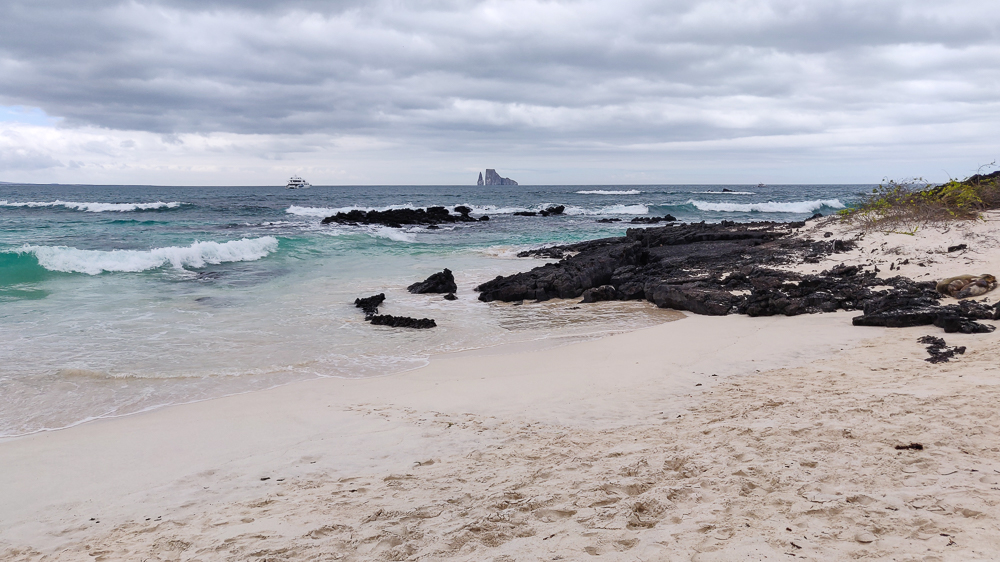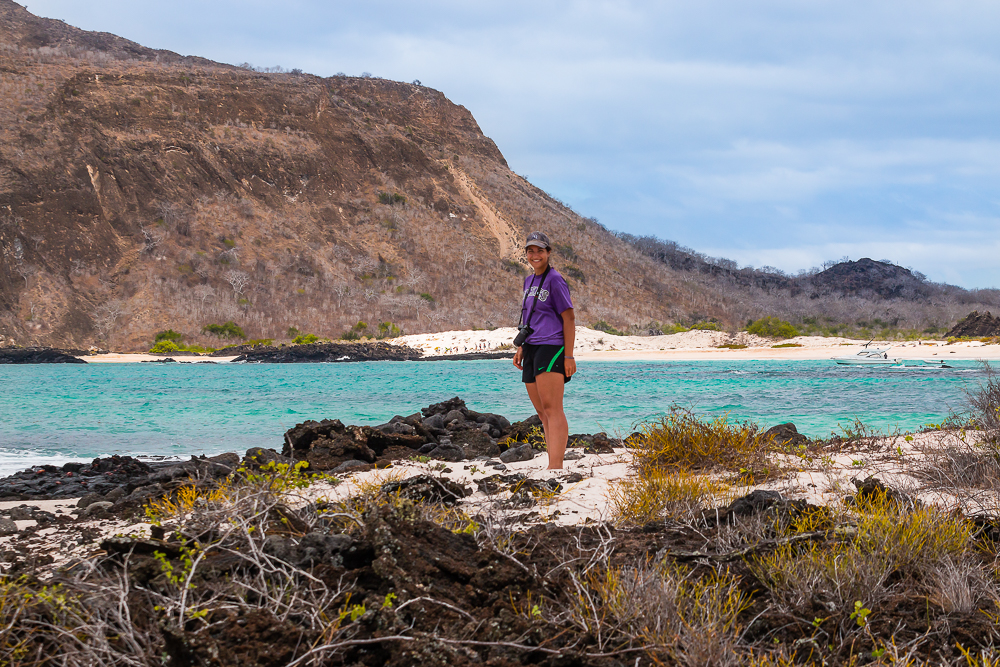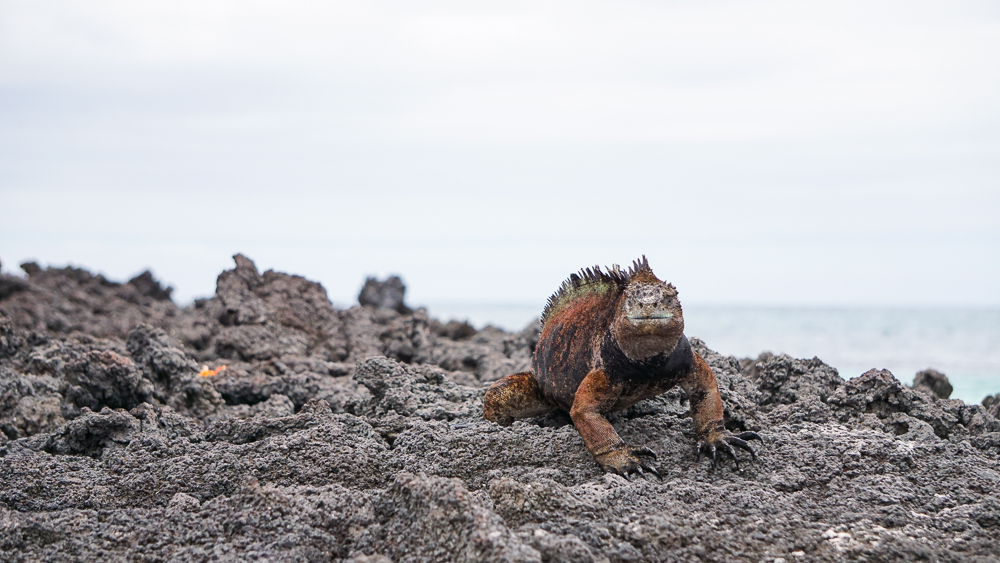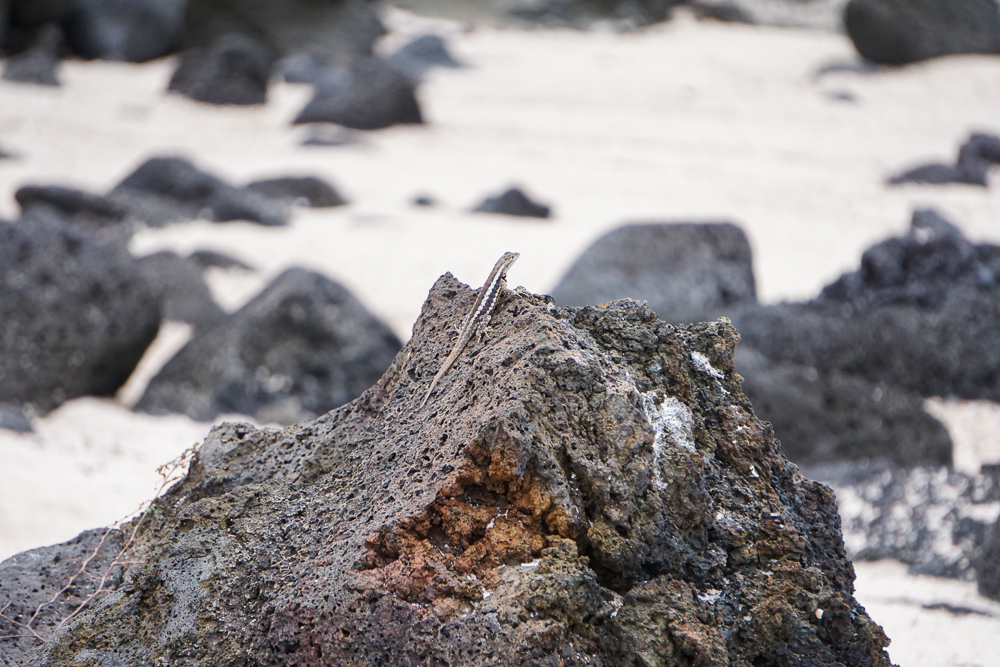 Our final activity of the day was snorkeling at Kicker Rock, aka León Dormido, a formation about three miles (5km) off the coast of San Cristobal. Here's the extent of my understanding about its formation: hot magma escaped from the sea floor, and when it collided with the cold ocean water, it caused an explosion. This formed a volcanic "tuff cone" (a cone of compacted volcanic ash) that was then eroded for thousands and thousands of years by the sea. Today, there's a two-peak formation, about 500ft (~150m) tall from the ocean floor with a channel between the two visible rocks that's about 60ft (19m) deep.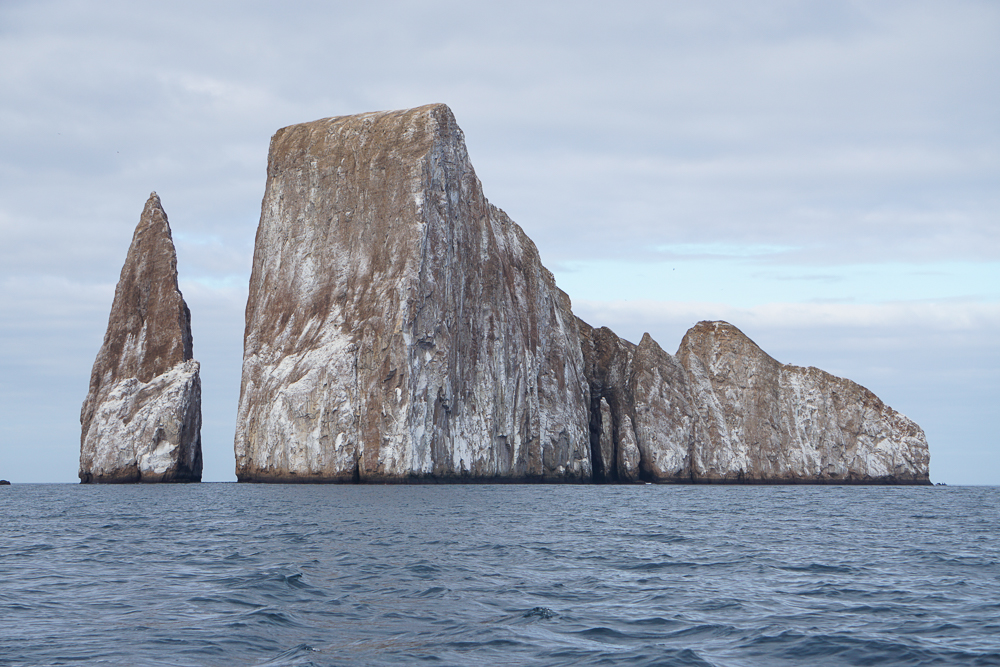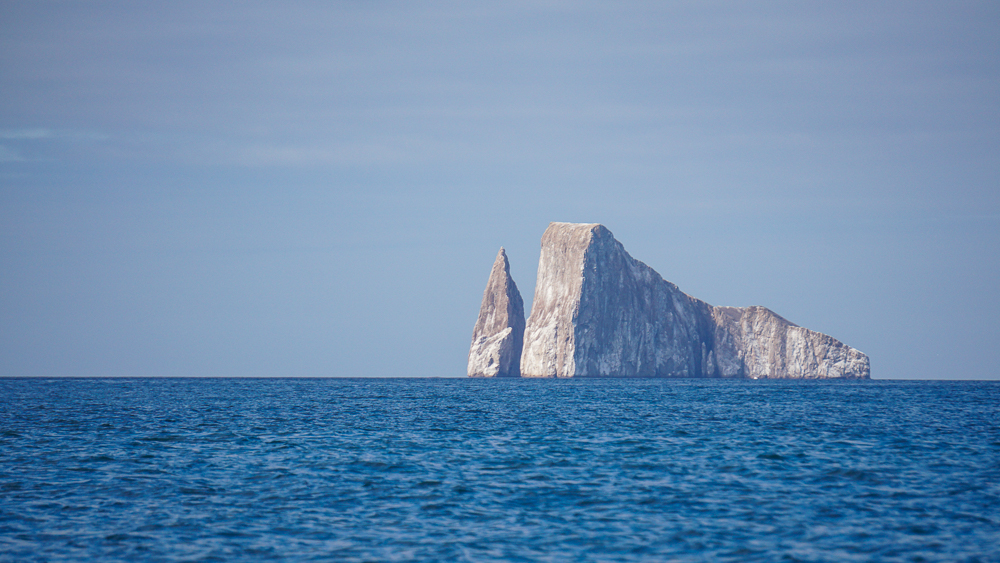 The names are things that people think the rocks look like. Kicker Rock is because someone thought it looks like a boot, and León Dormido, or "Sleeping Lion", is because someone thought it looks like a sleeping sea lion. I think these "someones" were a little kooky. (Also, there was a beach near where I lived in Peru called León Dormido, and that mountain/rock also looked nothing like a sleeping sea lion. My conclusion is that this is just a default Spanish name for rocks near the sea.)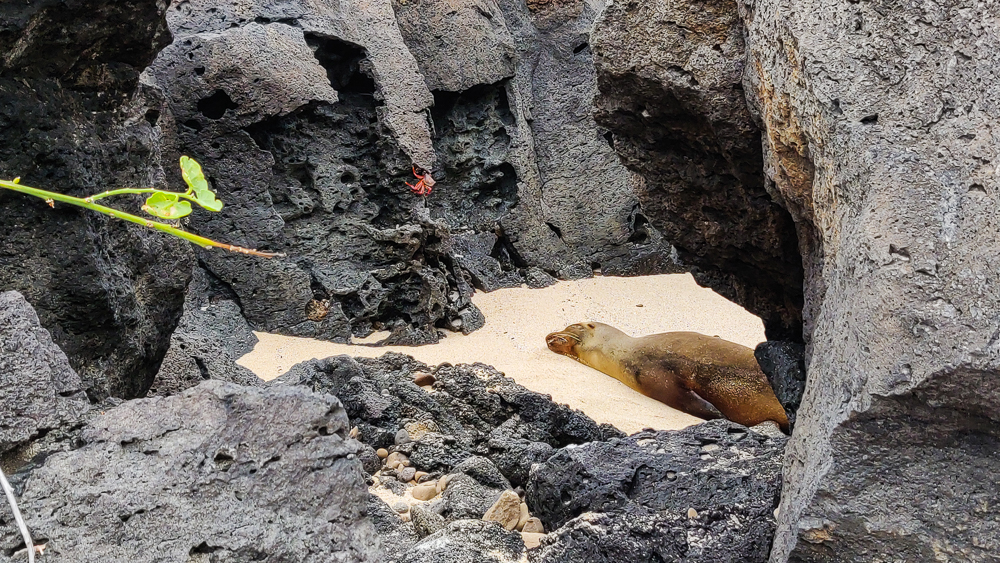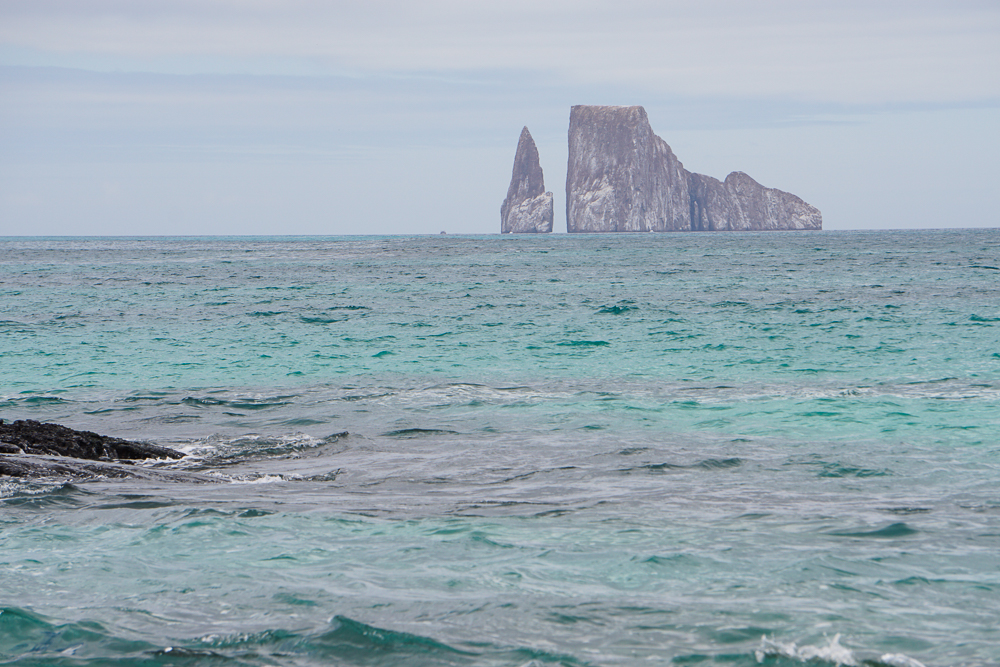 Kicker Rock is known for hosting a great diversity of sea life: tropical fish, rays, sea turtles, sometimes sea lions and marine iguanas, and a few varieties of sharks including hammerheads. So, why is this location such a hotspot? It's a combination of things… the strong currents + the ocean depth + a big, solid structure in the middle of the ocean = a disruption in normal water movement and the stirring up of nutrients that are usually found in the deep sea. The deep-sea nutrients end up closer to the surface and attract sea life.
This provides an especially cool opportunity for snorkelers because it puts some deep-sea diversity within reach and makes it feasible to snorkel somewhat in the open ocean. I was mostly excited about this… but I was also mildly terrified. Okay, confession time. I have an irrational fear of sharks. I mean, it's semi-rational because yes, sharks can be dangerous, but it's irrational because I don't like going in the ocean AT ALL unless the water is clear. And that's so that I can get myself out of the water ASAP if there's a shark in sight (yes, in my mind, I can outswim a shark). The concept of WANTING to see a shark while being IN the water is not one that my fear can comprehend. The tour guide said that there are always sharks there, but whether you see them or not depends on the water clarity. I assume other people were excited by the high probability of a shark sighting. I was just anxious, and almost paralyzingly so. But I didn't want to miss out on something because I was scared, so I told myself that I had to get over it. Did I? Well… get over it? No. Persevere through it? Yes.
Unfortunately for us, the currents were kind of strong, and the water wasn't especially clear. The boat dropped us near Kicker Rock, and we swam our way around the formation. Visibility was decent for maybe 10 feet, and most of my energy was spent trying to move forward, not get pushed into the rocks, and not get pulled too far away from them. I'm a good swimmer, but it was a lot, especially if you're also trying to look at things as you go!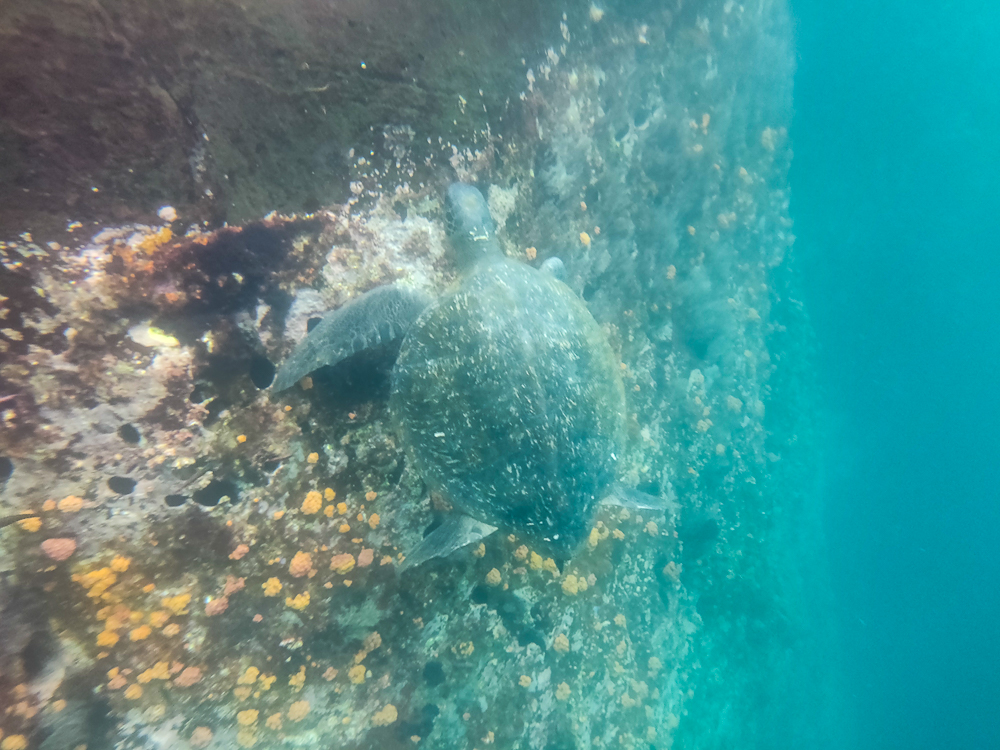 I didn't handle the currents nearly as gracefully as this sea turtle…
Since the visibility wasn't great, I mostly spent my time looking at the little fish and plants and stuff (clearly I'm no marine biologist) that were on the rock. The colors were amazing, and I imagined I was swimming past little fish neighborhoods. I also saw a couple of sea turtles and a faint shadow beneath me that looked like a ray. The worst thing was that there were TONS of tiny jellyfish. I'm 99% sure that the guide told us they didn't sting, but that was NOT true. It wasn't super painful, but I kept feeling sharp pinpricks on my face and arms. Wonderful. It also was a little disconcerting to not be able to see the bottom of the ocean (personally not a fan), and it absolutely didn't help with my shark fear. Focusing on the rock helped me to keep my bearings and feel slightly less adrift.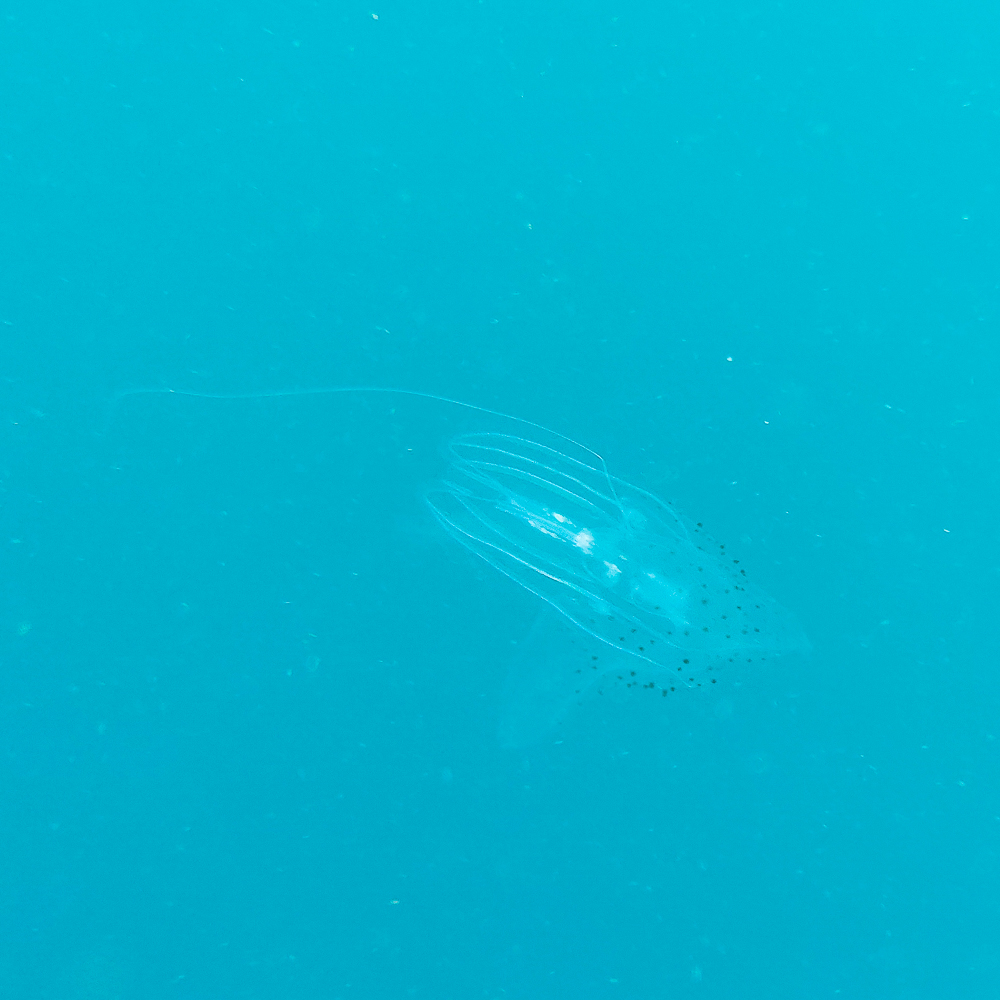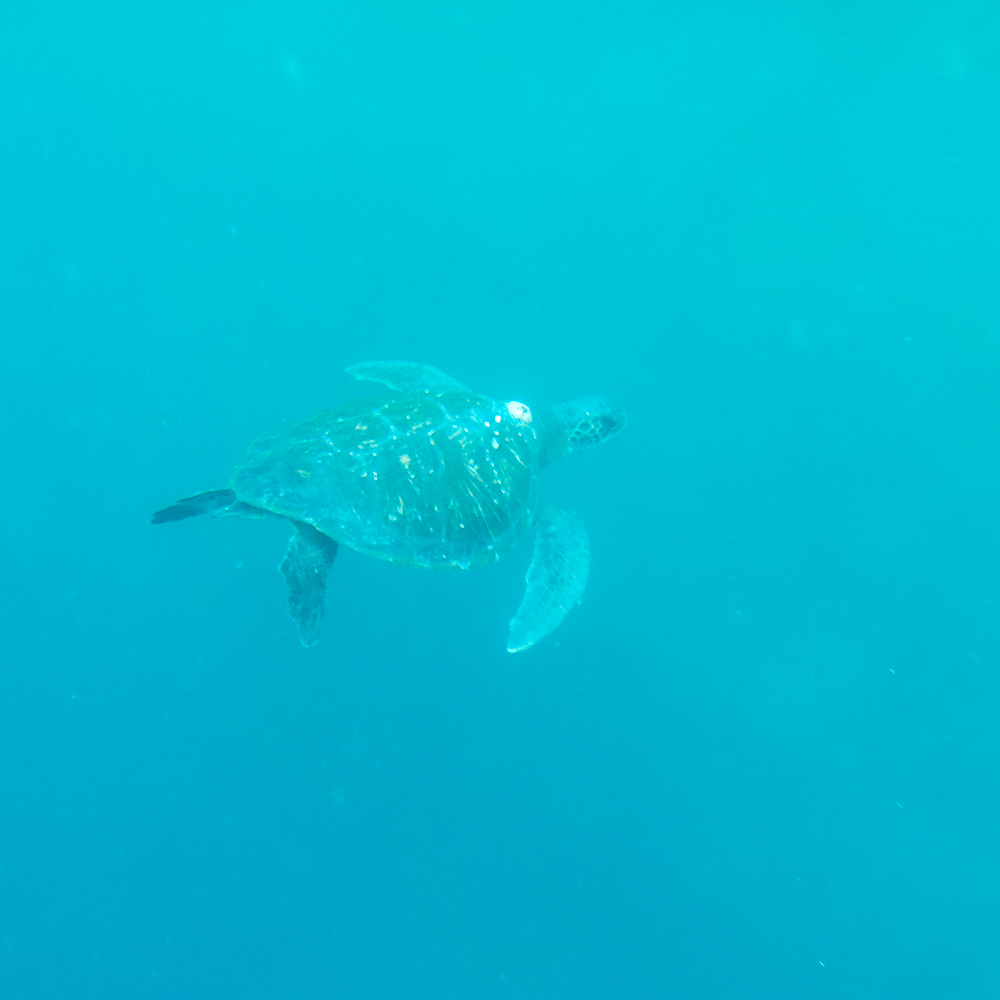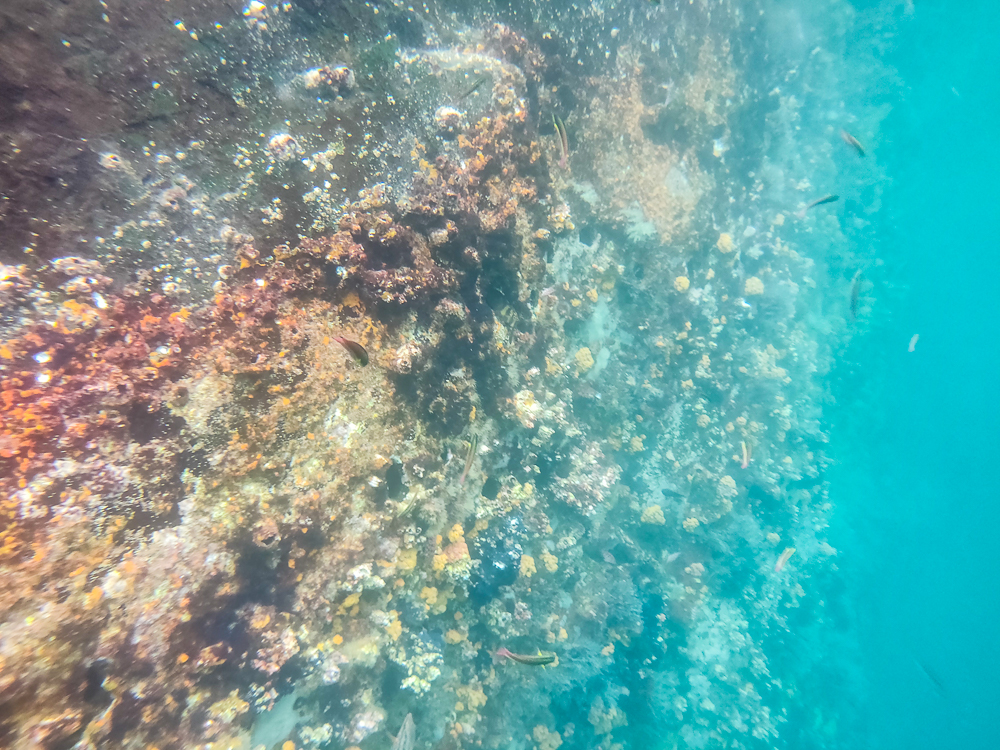 Here's some footage of the fish neighborhoods!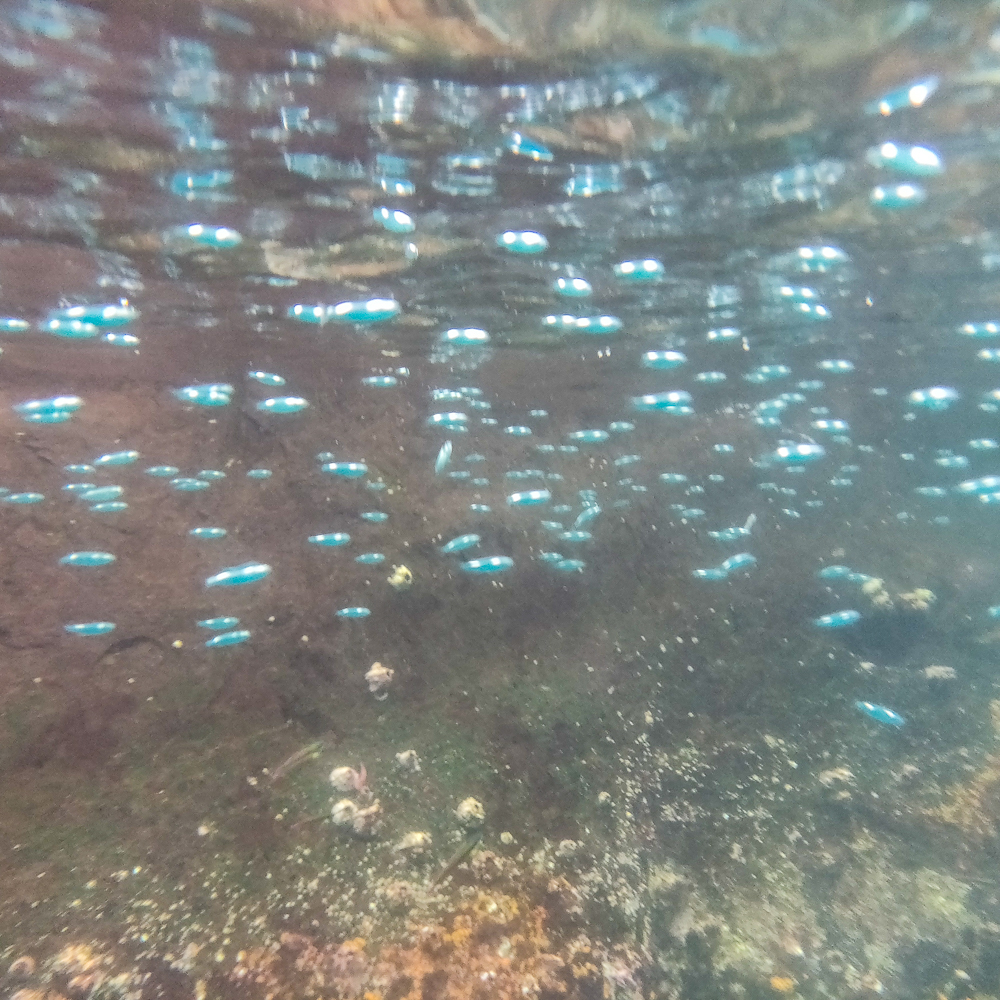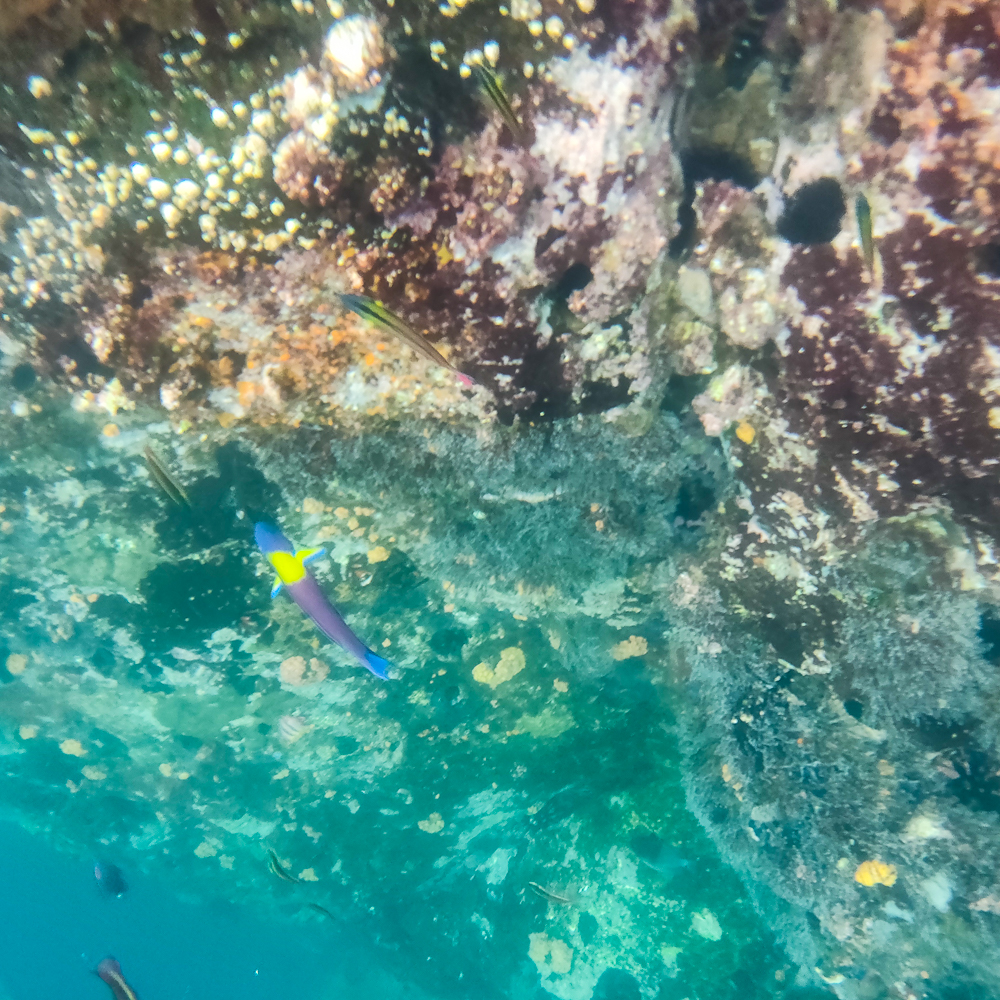 When we were nearly all the way around the formation, the guide delivered the "good news" that the currents weren't too strong to keep us from swimming through the channel. Oh, goody. Did I mention? The channel is where the sharks like to hang out. Thought stream: "EEEE! Deep breath. Stay with the group. No sharks want to eat you. Go for the eyes and gills. You can swim faster than most of these people. You're okay. Don't think don't think don't think." I did it. It was not great. I couldn't see anything which made it infinitely worse because there were almost definitely sharks, they almost definitely knew where I was, and I had no clue where they were. Nope nope nope. Not my favorite experience. The good news is that I didn't get attacked by a shark, so at least my irrational fear took a slight hit (it likes to tell me that if there is a shark in the area, it WILL attack me. Now we're down to "it MIGHT attack me").
Anyway, after we swam through the channel, the boat picked us up on the other side. My nerves were about spent by that point, and I couldn't get out of the water fast enough. Plus, I was tired of getting zapped by jellyfish. And just tired. Everyone seemed to be on the same page because we rode back to town in near silence, and after we got back, I sat around like a potato until deciding on an early bedtime.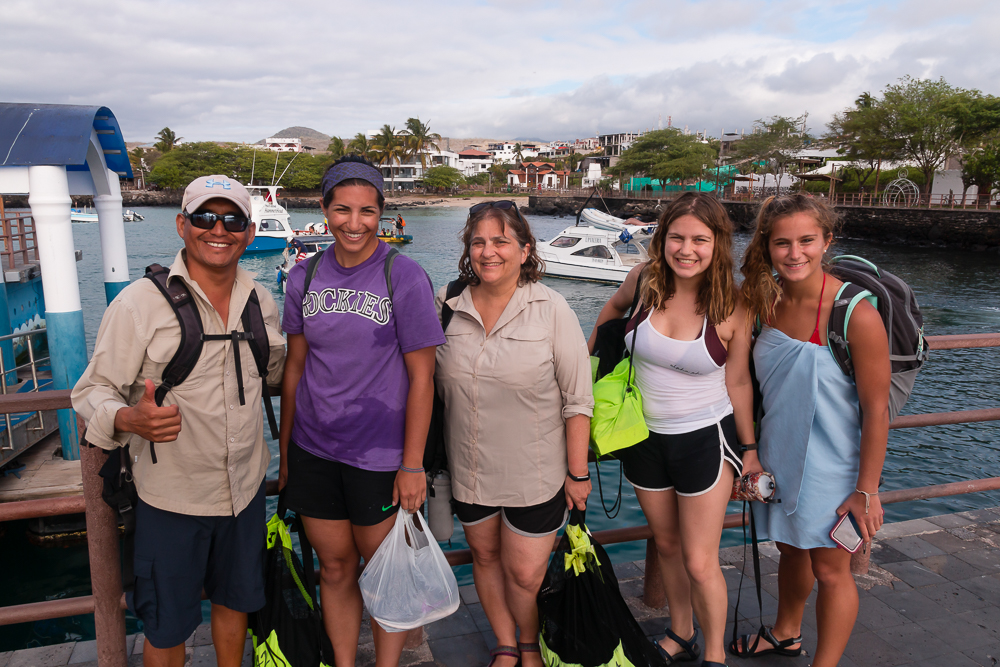 Related Posts
Welcome to the Galapagos – learn more about the islands' formation
Española Island – explore another Galapagos-ian island with a completely different landscape
Diamond Beach, Iceland – compare the white sands of Playa Cerro Brujo to the black sand beaches of Iceland!
Ada Foah, Ghana – lounge around in the Ghanaian beach paradise of Ada Foah
Batumi, Georgia – I can't talk about beaches without mentioning my favorite pebble beaches of Batumi!